A personalized invitation to announce this sacred day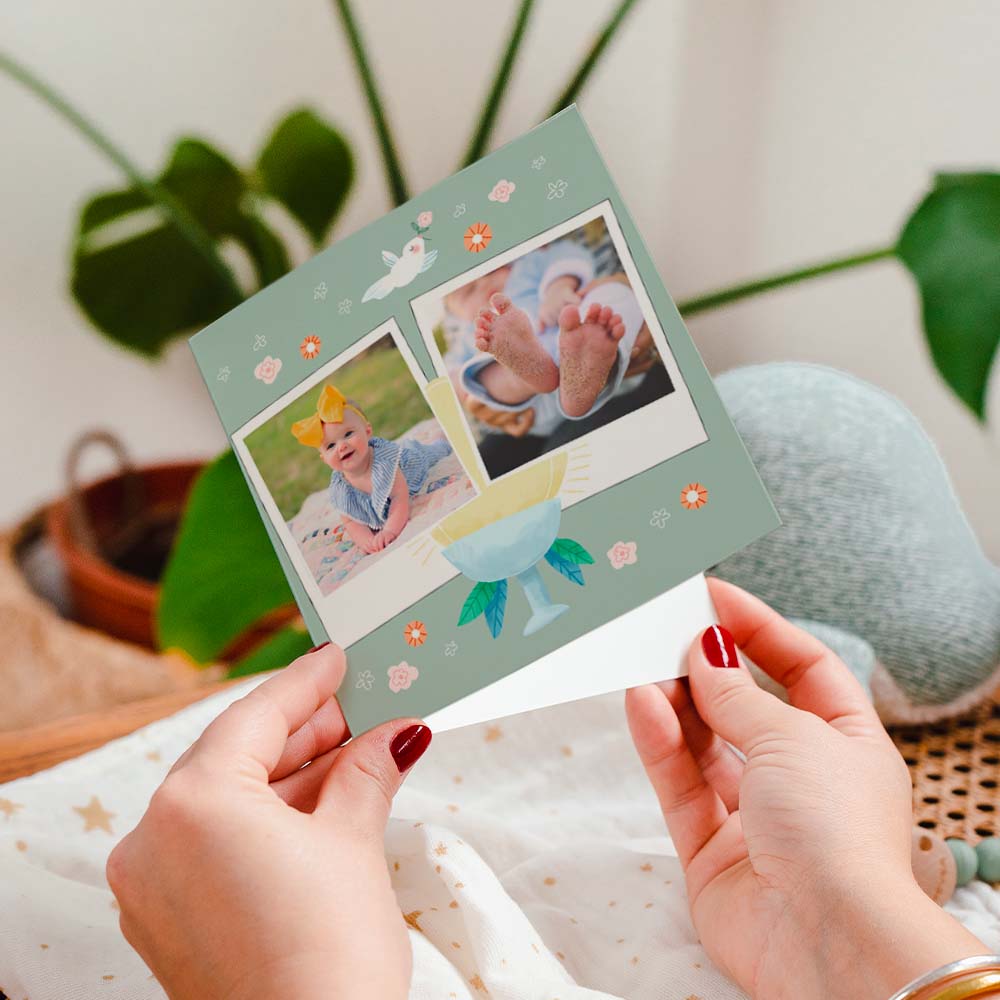 Invite your guests to this founding event in your child's life!
Postcard format (10x15 cm) or event card (14x14 cm);
customizable at will;
envelope included;
Printed in France.
Personalize your baptism announcement with photos.
Send it from France or abroad.
Share your most beautiful baptism messages with your loved ones.
How to create a baptism announcement with Fizzer?
To create an invitation to your child's baptism, you are looking for an application that is simple and quick to use. However, you want a quality rendering and pretty finishes for your announcement. The best would probably be to be able to customize it at will! Fizzer supports you in creating your baptism cards in 4 steps.
Select the invitation template of your choice
First choose the card format you like. Then, select the "Religious holidays" category, where you will find the baptism collection. Look for your favorite design among our illustrations in pastel colors, doves or religious signs. You are sure to find the ideal card for this founding event for your child.
Add the most beautiful photos of your child to your announcement
Imagine the nice surprise for your loved ones when they discover your child's face on an original announcement. For this baptism announcement, choose one or more pretty photos.
Write a personalized message to your guests
Write your baptism announcement directly on the application or opt for the delivery of a set of cards to write to your home. Mention the child's first name and give more details about the event: place, date and time of the meeting.
Send your invitation card to your guests to mark the date
Are your baptism invitations ready? Select your guests that you have previously added to your contact list. Validate and it's sent! Fizzer takes over to send your baptism announcements: putting in an envelope, postage and shipping. Your card is dispatched within 24 working hours.
Our selection of baptism announcements
Do you dream of organizing a traditional ceremony? Opt for a nice clean and white announcement. Do you want to share happiness and peace with your guests? Choose an announcement featuring a dove. Yes, you can convey many messages with an illustration, so choose the one that suits you.
Ready to celebrate this sacred day?
3 tips for writing your baptism invitation text well
There are a few conventions for writing a baptism announcement text. Certain information must be included to allow your guests to mark the date of the ceremony: the place, the date and the time of the sacrament (church or town hall). If you plan to bring your guests together around delicious canapes, verrines and dragees, remember to also include the place of the reception. In short, here are the 3 steps I should not miss in writing your invitations:
Mention the important information: place, date and time of the baptism.
Personalize your card with a photo of your child.
Ask for a response before a deadline.
Religious baptism: create personalized invitations for the whole community
Have you planned to have your child baptized so that he can join the Christian community? To celebrate this, surround yourself with the people who are dearest to you. Invite your parents, close family and friends. Of course, invite the godfather and godmother so that they can take the oath and watch over your child. All this merry group will meet at the church. He will meet at a reception to celebrate this beautiful moment. How to invite your guests? Create a personalized baptism announcement with your own photos.
Want to create your personalized invitations?
When you create a card, your order is processed within 24 working hours. Then, it is the delays of La Poste that apply:
France and Europe: 2 to 6 days;
USA, Canada and Australia: 4-12 days;
other destinations: 1 to 3 weeks.
Size: 14×14cm;
format: event card, front/back;
280g paper;
envelope included;
worldwide shipping included;
all our cards are made in France.
How does a baptism take place?
The process of baptism includes several traditional stages. These are, in the order: an initial dialogue, a signature (in which a cross is drawn on the child's forehead), the reading of fundamental religious texts, a series of rites in the baptistery (including the sacrament baptism by the rite of water, the anointing with holy chrism or even the putting on of the white garment). Finally, comes the finalization at the altar which includes, among other things, the signing of the registers.
After the religious part, family and loved ones usually meet for a reception, a banquet or a meal to celebrate the happy event.
3 text ideas for your baptism card
To guide you in writing your baptism announcements, we have written some sample texts that could inspire you. Whether you want to baptize your child to bring together important people in his life, to do a civil baptism or to consecrate him religiously to Christian life, do not hesitate to use our words to help you formulate a pretty card!
Example for a convivial baptism
Anaïs invites you to her baptism on Saturday July 29, 2020 at 10 a.m. in the church of Teurthéville-Hague. A lunch will follow with our family, at 13 rue de L'École in Sideville.
Text for a civil baptism
We are very happy to invite you to the baptism of Gabin, Sunday June 22 at 11:30 a.m. at the Town Hall of Aix-en-Provence. We will then receive you for a country lunch at home. 
Model for a Christian Sacrament
Clarisse is about to join our religious community. We are pleased to invite you to his baptism on Sunday June 14, 2020 at 11 a.m. in the church of Joinville-le-Pont. We will then meet for a convivial lunch at the Domaine de Liary. (Answer desired before May 15, 2020)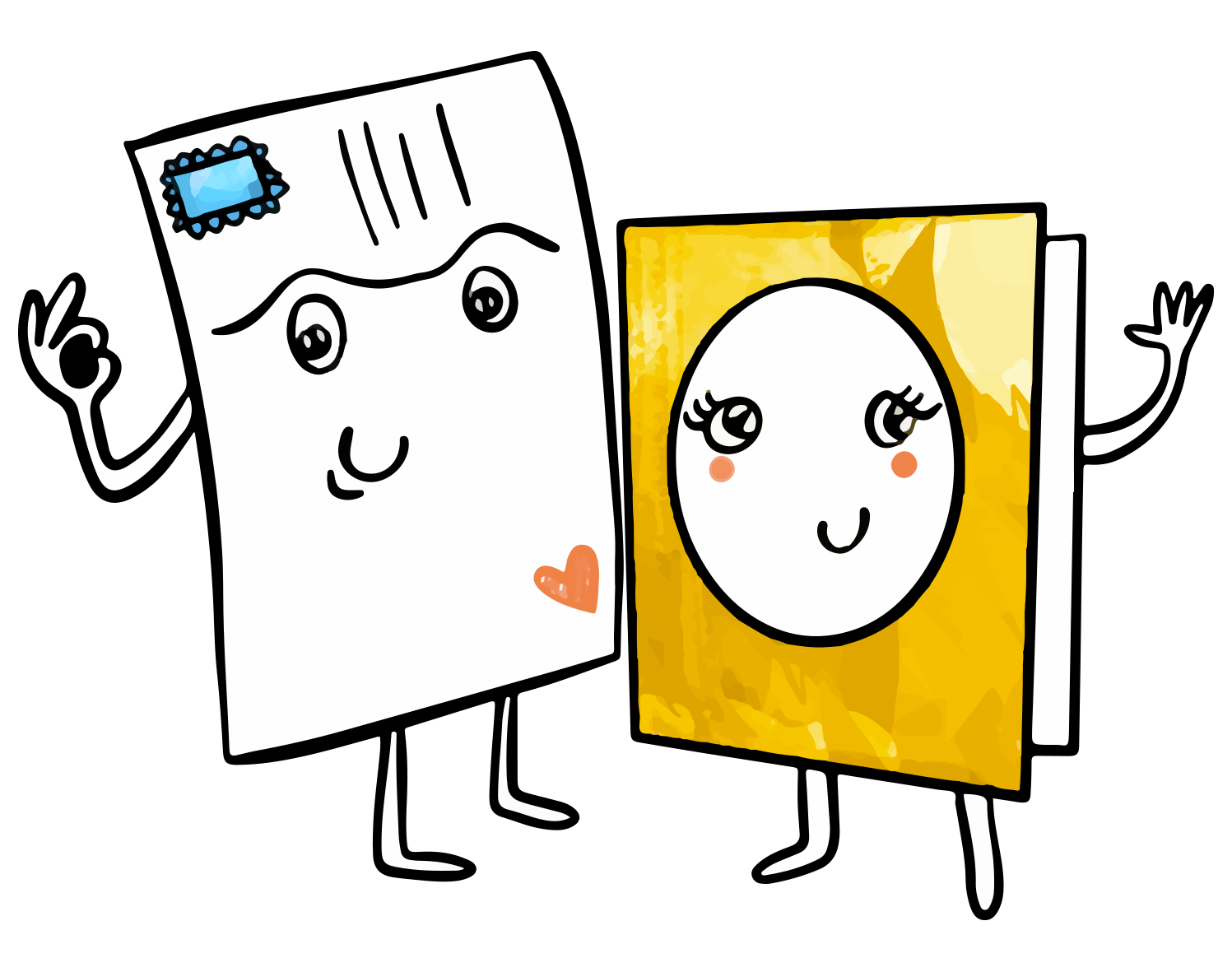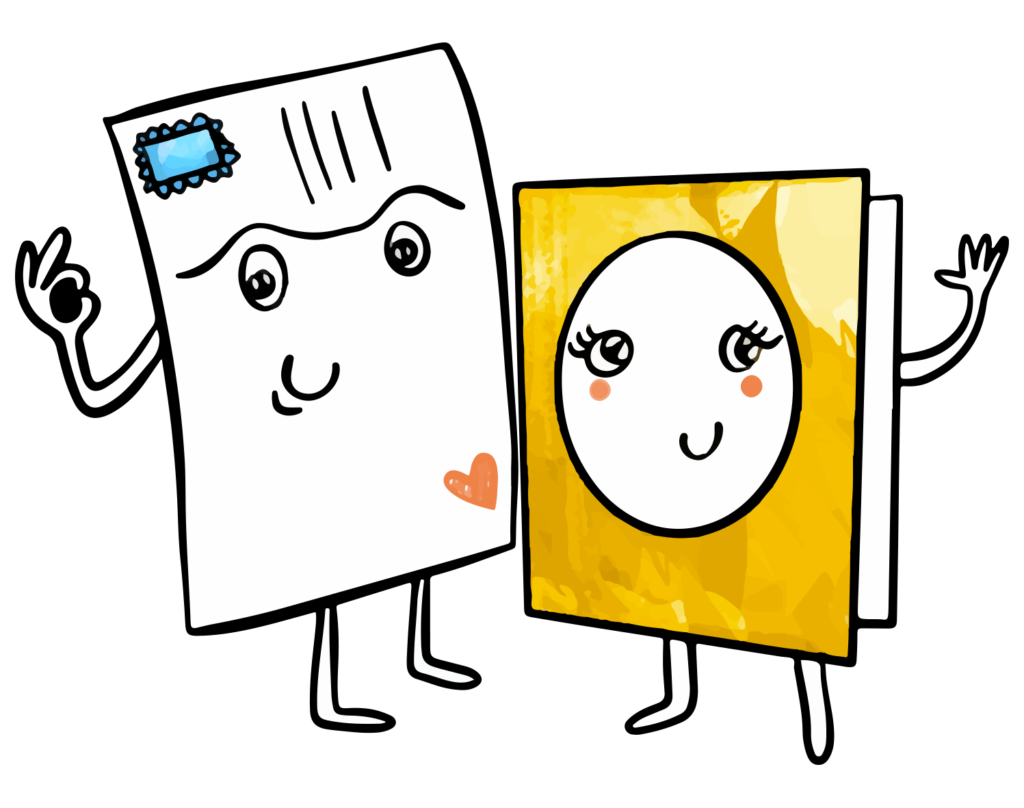 Need help ? A question ? The Fizzer team responds to you within 24 hours, even on Sundays!
How to create a personalized baptism announcement?
It is a founding event in the life of your child. To mark the date, send original baptism announcements to your guest list: you will be sure that they will be present on D-Day. These pretty invitation cards will also make an excellent souvenir in the birth book of your your child, because his baptism is part of his story. To create a baptism announcement, first find the format you like: postcard format, magnetic square card, or event card. Then, find a design on our Fizzer app. Be sure to choose a design that reflects the christening theme, the child's gender, and the style you want. After adding the most beautiful photos of your baby, include the important information: his child's name, the date and time of the baptism, the place of the ceremony, the name of the priest or pastor, as well as the names parents, grandparents or godparents, if relevant. You can also add additional details, if you are planning a reception or dinner after the ceremony for example. You can also add a special message, quote or Bible verse. Once your text has been written and formatted, select colors and fonts. Choose colors that go with the theme and the sex of the child, or opt for white, the color par excellence of the baptism. Send the announcements on time, or schedule them to be sent. By following these steps, you can create a beautiful baptism announcement that reflects your child's personality and helps you invite your loved ones to celebrate this special event.
How to make baptism announcements yourself?
With the Fizzer application, creating an invitation to the baptism yourself is child's play! For this sacred ceremony, choose the card format that suits you, the color and the theme that suits you, as well as the text and photos that will be added. The application is easy to use, the photos are imported directly from your phone on your announcement, and personalizing it is done in a few clicks.
When to send a baptism announcement?
Your guest list is ready, the white dress for the ceremony is purchased, all that remains is to send out your baptism invitations! Traditionally, baptism announcements are sent between 1 and 2 months before the baptism ceremony. This allows your guests to save the date in their schedule and plan their attendance at the celebration and find a Christening gift. However, it is important to take into account certain factors such as geographical distance, schedules and everyone's availability. If the christening ceremony is planned during a vacation or public holiday period, it may be wise to notify your guests earlier in order to allow them to better organize themselves to be able to attend the ceremony. In summary, send baptism announcements approximately 1 to 3 months before the date of the event, taking into account the specifics of your situation.
What themes around the sacrament of baptism can we find on the application?
In our beautiful collection of baptism announcements, you have the possibility of choosing a theme that you will particularly like. Currently, our graphic designers are offering cards with illustrations related to this event: dove, birth, church, religious sign, cup of holy water, floral motifs... The theme of the sacrament is very present for this religious rite. But you will also find more secular designs if you want a civil baptism. So you have the choice among all our models. Choose the one that suits you best ! For an original announcement, you can also choose a theme from the other collections and personalize it.
How to find a cheap baptism announcement?
At Fizzer, we accompany you through the blessing of your child with accessible announcements, at advantageous prices. Our baptism announcements are at the price of the other cards we offer. Regardless of the theme, model, colors and patterns you choose, the cost will depend solely on the format selected. For a baptism card in 10x15 cm format, count from €1.70. For a more qualitative invitation, opt for the 14x14 cm format in two parts of the event card, from €3.40.
Which model to choose for a girl's or boy's baptism announcement?
You have the date, the place, the church and your guest list, Now you have to choose your baptism announcement. For this, you wonder which model, which format and which price to choose. First, ask yourself if you want your baptism invitation cards to be gendered. For a boy's baptism announcement, you can opt for themes in blue or white tones, with animal motifs. For the baptism of a girl, opt for pink colors or floral patterns. It should nevertheless be known that the traditional color of a baptism is white. This color is unisex and can therefore be suitable for boys and girls, twins and twins. As long as your child is a baby, this design choice will be up to you. If your child is older, he can take part in the realization of his baptism cards and choose the illustration he prefers. Do you dream of organizing a traditional ceremony? Opt for a nice clean and white announcement. Do you want to share happiness and peace with your guests? Choose an announcement with a dove. Yes, you can send many messages with an illustration, so choose the one that looks like you and that will make your invitation something original.
Civil baptism announcements: are the Fizzer models suitable?
Among our invitation models, there are many models with religious themes. However, you will find among our baptism collection more secular invitations, with floral motifs, an animal or a dove for example, which will be perfect for your invitations to a civil baptism. Discover them in our app!