A personalized announcement to celebrate your union
Announce your union your way with a personalized wedding invitation.
Postcard format (10x15 cm) or event card (14x14 cm);
customizable at will;
envelope included;
printed in France.
Personalize your wedding announcement with pictures.
Send your invitations from France or abroad.
Share your most beautiful wedding messages with those you love.
How to create a wedding announcement with Fizzer?
Choose a wedding card you like
First of all, choose your format: event, square, postcard? Then, among our many available themes, find the one that corresponds to the wedding ceremony. Of rustic wedding invitation At invitations flowery or chic, there is something for everyone!
Add your most beautiful photos to your wedding invitations
Add one or more photos of you and your spouse to announce the news. It can be a photo from a photo shoot of future spouses, or simply images captured from the beginning of your relationship so special.
Write a personalized invitation message
Write the same invitation for all your guests or opt for a personalized wedding text depending on the groups of guests: parents, witnesses, bridesmaids, family, friends, colleagues... Write your text directly on the application or opt for the delivery of a set of wedding cards home.
Discover our cards from the wedding collection
Your wedding announcement is ready. Select one or more recipients, confirm and you're done! Fizzer takes care of the rest: printing, putting in an envelope, postage and sending your wedding invitation cards within 24 business hours worldwide.
For announce your marriage, several steps are essential, and it is advisable not to burn them so that your wedding announcement be as successful as possible. here are the wedding themed cards who will follow you throughout this unforgettable moment of your life. Among our Save The Date creations, browse our illustrated cards to announce to your future guests to block the date of your wedding. For a wedding announcement, discover our most beautiful illustrations wedding in themes original, chic and timeless. For your wedding thank you, lovely thank you cards for guests after wedding party are available in our app. For your romantic announcement to those around you, you will inevitably find a model that you like!
Which card theme should I choose for my wedding invitations?
There are as many wedding themes as there are couples coming together. Everyone opts for tones and colors that they like, with a particular dress code. For your union, you can therefore feel free to choose the theme. It is important that your wedding invitation already announces the color: romantic, rustic, chic... Here are some themes that we offer. Our wedding cards have been illustrated by our graphic designers to accompany you perfectly in the theme you like.
Our selection for a country wedding
If you dream of a bucolic wedding, fresh and green, inspired by nature, adapt your wedding announcement by choosing our country wedding illustrations. They are perfect if you imagine a floral party, raw and rustic materials (driftwood, leaves, mosses, natural tones, wild flowers, linen or hemp fabrics, etc.).
Ready to create a rustic invitation?
Our selection for a chic and elegant wedding
Sobriety and elegance is what you imagine for your wedding reception. Your dress will be chic, the frame impeccable, and the dress code of your guests will be just as noble and refined. Our collection of classy wedding invitation would suit this theme perfectly.
Would you like to opt for a chic and elegant announcement?
Our selection for a bohemian wedding
Surrounded by dreamcatchers,guests and witnesses in natural, flowing and brightly colored outfits: that's exactly how you imagine your wedding. So, as much make an announcement to this image: free souls, for a bohemian wedding, discover our collection of bohemian announcement !
Would you like to create a boho and floral invitation?
Our selection for a vintage wedding
A little bit of nostalgia in you, you can't imagine your ceremony for the most beautiful day of your life without a retro, old-fashioned style, a bit vintage. Because arriving in a Vespa or a classic car at your wedding is stylish! To celebrate your new life together while keeping objects and nods to the past, choose vintage illustration announcement.
Why don't you prepare a vintage announcement?
Our selection for getting married in winter
From June it is too hot for you. You prefer the warm atmosphere of winter to that of summer. You dream of a white furry dress or a very warm suit, of a happy and friendly party around a fire. You're crossing your fingers that it snows on your wedding day. You have understood everything: you need announce your wedding with some share winter themes. Discover a model that you like!
Congratulations on your wedding!
You are about to exchange your consents and to build a life together, for better or for worse. In a few months, you will form a couple united by love, for worse and for better. Your well-defined guest list, you have already blocked the agenda of your guests with a Save The Wedding Date. So much the better ! Now they are just waiting for the official announcement with the event details to celebrate your union by your side. Which stationery to choose? What to put on a wedding invitation ? When to send your invitations ? What text to write on your wedding cards ? Fizzer unveils its complete collection and helps you create your invitations. On your keyboard, let's go!
3 tips for writing your announcement
The key to successful wedding invitations is to think about these 3 essential things:
Write the recipient's address as precisely as possible.
Mention important information: meeting place, date, time.
Ask for a response before a deadline.
When you create a card, your order is processed within 24 working hours. After that, La Poste's delivery times apply:
France and Europe: 2 to 6 days;
USA, Canada and Australia: 4-12 days;
other destinations: 1 to 3 weeks.
Dimensions postcard: 10×15 cm and event card: 14x14 cm;
postcard format: double-sided, event card: 4 pages;
330 g postcard paper - 280 g event card paper;
envelope included;
worldwide shipping included.
Ready to send out your wedding invitations?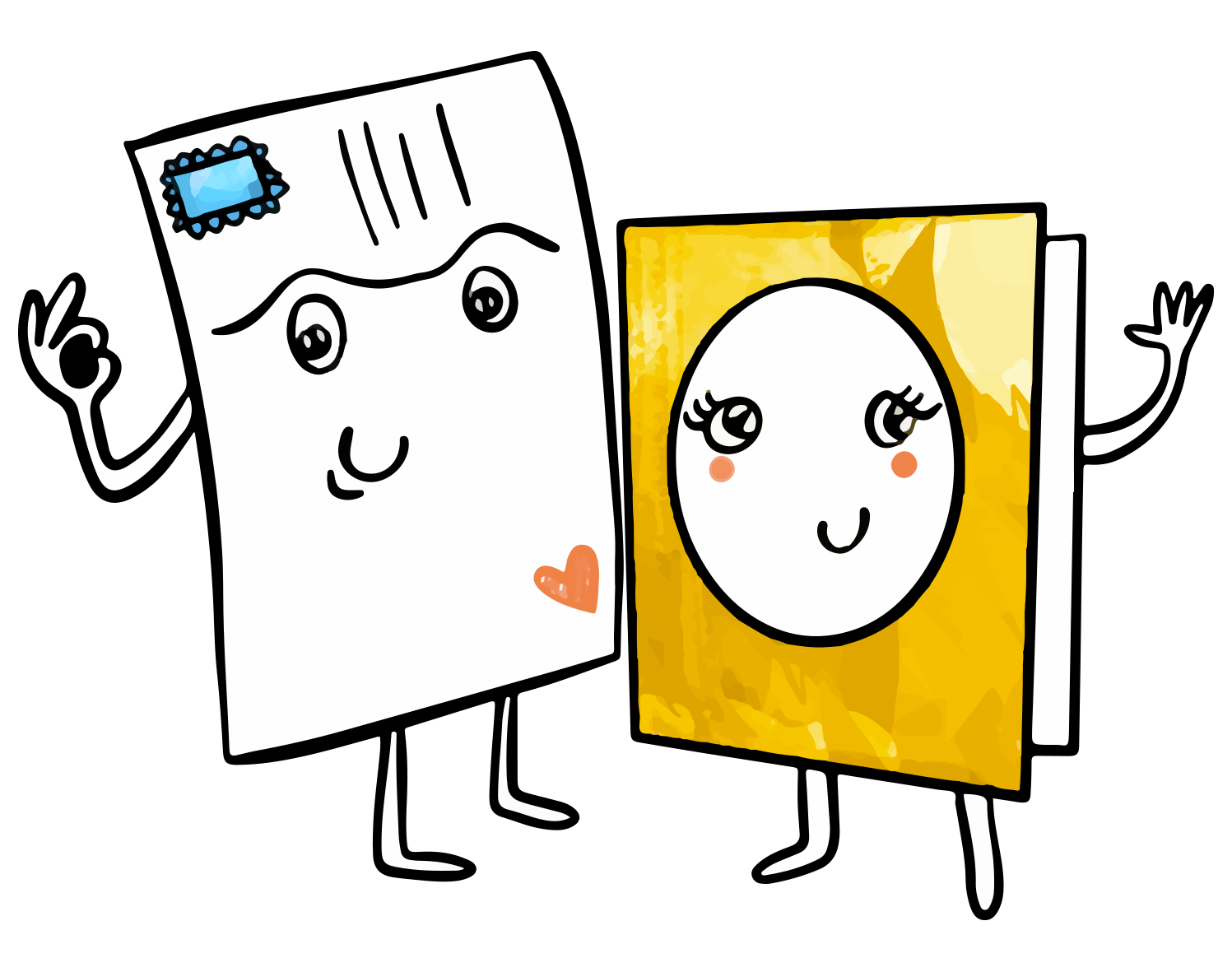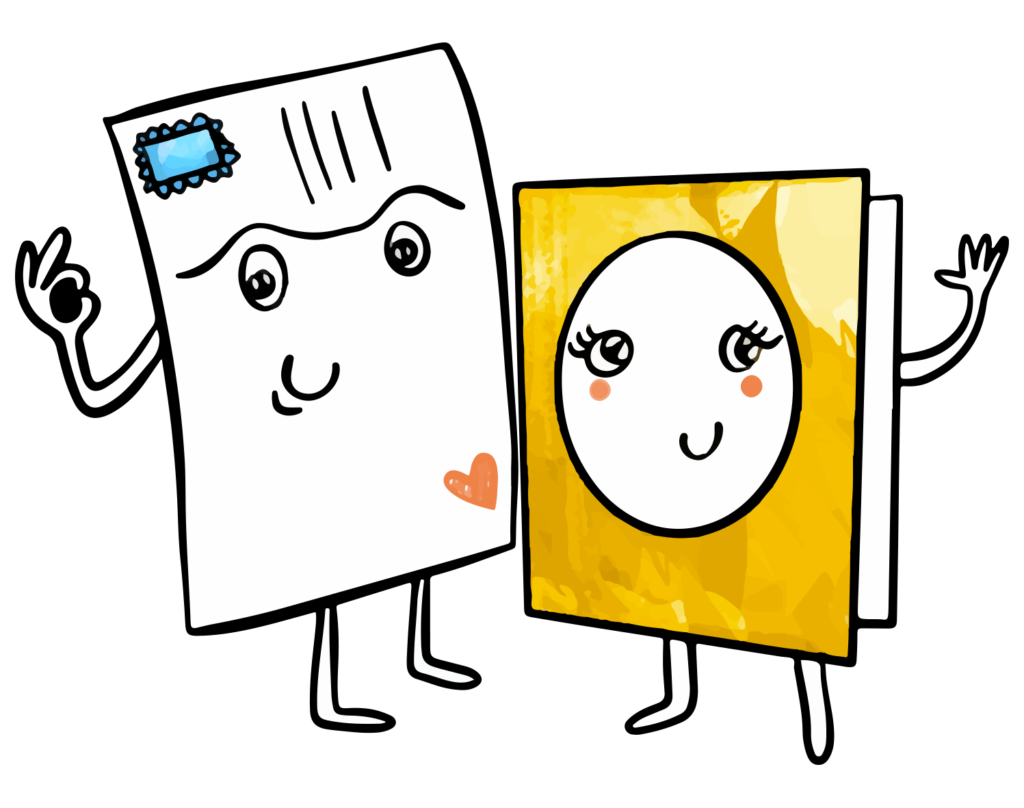 Need help? Any questions? Our team answers you within 24 hours, 7 days a week
Can you find a cheap wedding invitation at Fizzer?
Our invitations cost the same price as a card of the same size and another theme. Thus, if you opt for the postcard format, your announcement will cost the same price as our postcards: from 1 credit. If you opt for an event card, your invitation will cost 2 credits. To find out more about our prices for recharging your credits, go to the purchase page of credits. If you buy the credits in batches, they will cost you less (from 1.87 euro per credit).
Fizzer stationery is designed to remain affordable while maintaining quality paper. Using the application is quick and easy, importing your photos is child's play. Your announcement will remain small budget and easy to access.
How to create an original wedding invitation?
To create an original wedding invitation, a little touch of madness will be necessary. The traditional criteria for making a wedding announcement are to be discarded to make room for invitations that are out of the ordinary. To do this, don't be afraid to shake up conventions and send wedding cards that are extravagant to say the least. And that doesn't mean giving up the romantic! You can choose between several new creations.
Create an announcement without photos, only with your portraits caricatured by a professional.
Choose funny photos of your couple and the history of your relationship and create your wedding invitation in a humorous tone.
Opt for stickers and an unusual font, particular and special texts.
Basically, there are multiple ways to create an original wedding invitation. But stay true to the future groom that you are. The way to do that will be the most extraordinary, it will be the one that will be in your image!
How to write your wedding invitation text well?
There are certain criteria to be taken into account for write your announcement text of marriage. The message you write there will be very important. However, keep in mind that this is not the only thing that matters in your way ofwrite your wedding card. First of all, think about what the format you have chosen allows you. Did you choose a square or rectangular card? The rectangular format will probably be able to contain longer sentences, or in any case it will not receive the invitation text in the same way as the square. For more information, see our page traditional wedding invitation text.
For writing your invitations of marriage, also think about the style in which you want to write. Words are important and beyond the information they allow to transmit, they can be well chosen and imaged. So take the time to select them carefully. After all, they are the mirror of your love story!
Remember to write text in a style similar to the chosen theme for your wedding. Small bohemian or romantic poem, excerpt from well-known texts, quotes from writers or vintage actors... Indulge yourself in this choice which takes on all the character of your beautiful ceremony that is coming up. For a bohemian wedding, bet on a poem by Rimbaud or Musset. For a vintage style, look for Marilyn Monroe movie lyrics or Andy Warhol quotes.
For shaping your announcement text, customize your font, color, size. Don't forget to insert some text on several pages for an announcement on the bifold event format. For the most beautiful day of your life, treat yourself! If you need inspiration, discover our examples which will allow you to find a wedding invitation text.
And the last but not least : photos ! Choose them carefully, and import them into the predefined location on our wedding cards.