3, 2, 1...happy birthday!
🎈 A nice card to please 🎈
If there are recurring events to remember, it's birthdays! Our children's 10th birthday, our best friend's 30th birthday and even our own. In short, these are moments expected by all of us, moments that we wish to live with our loved ones with a single goal: to create happy memories together.
Sometimes it only takes a few clicks to engrave our most precious moments on a birthday card. The moment when we blow out our candles... when we light the candles again, when we discover the gifts, when we marvel at the small attentions that our relatives give us. Now it's your turn to please!
What if all it takes is a nice personalised card to make hearts grow fonder? Wish your friends and family members a happy birthday with a greeting card or simply invite them to celebrate yours by your side. You're sure to make a lot of people happy.
6 birthday categories adapted to all birthdays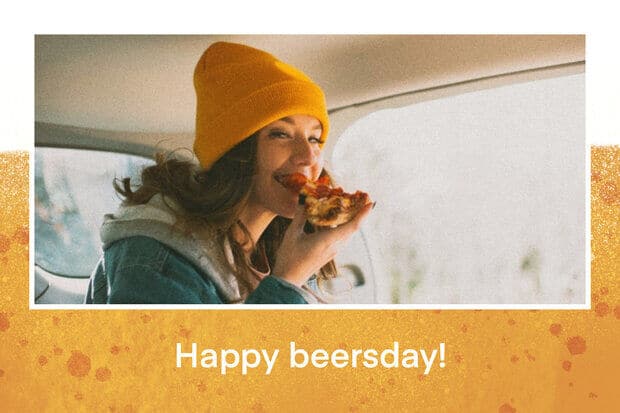 Adult Birthday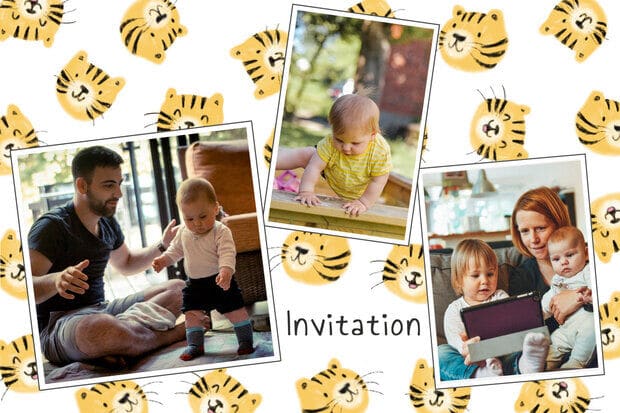 Kid Invitation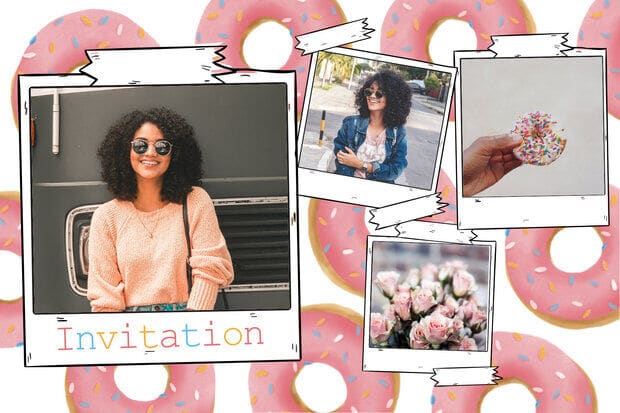 Adult Invitation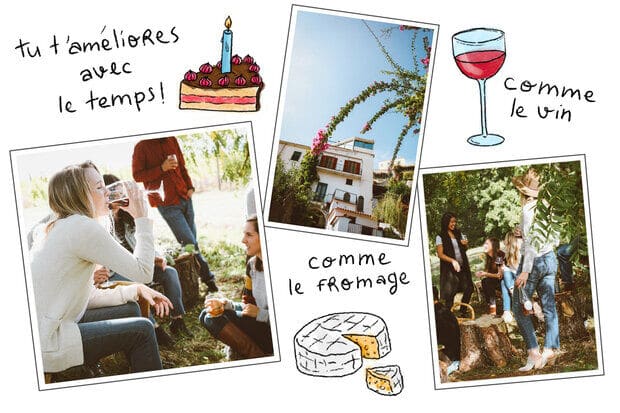 Humorous Birthday
Age Birthday
Surprise your friends and family by sending your first card!
How to create a nice personalised birthday card?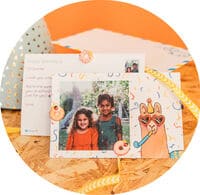 Pick the birthday card you like the most
A birthday to celebrate? Choose your favourite model from 6 themes ranging from invitations to humorous cards and age cards.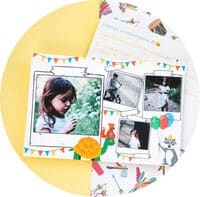 Gather your best photos
Adorn your card with your most beautiful memories. Add 1 to 6 photos and personalise it with text and stickers. Remembering the good time spent together, that's a gift that will make everybody happy!
Write and customize your message
Let your imagination run wild and wish a happy birthday to your loved ones with a personalized message. Shape your message with the colour and font of your choice. Add some emojis!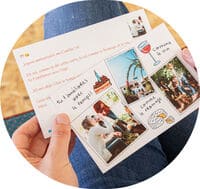 Ship your card to one or more recipients
Is your birthday coming up? Kill two birds with one stone and invite your guests with the same birthday card. All cards are sent worldwide in envelopes within 24 working hours.
3 text ideas to write on your birthday card

Dear Noah, you are already 10 years old and you are now as tall as us! Many beautiful things are coming for you. We wish you a happy birthday. Love 💋
Grandpa & Grandma

May this year be the most beautiful, full of joy, success, health and happiness! I wish you a very happy birthday! 🎈
Olivia

It is said that you begin to realize that you grow old when the candles overflow from the cake. 🎂So for my birthday, I decided to get you all together to bake a bigger one. See you at home on October 23rd at 7pm !
Arthur
Need help? Any questions? Our team answers you within 24 hours, 7 days a week
Want to give a new twist to the traditional musical card signed by family and friends? Fizzer allows you to send personalised birthday cards all around the world. Only your phone or computer is needed to design a card with your own photos. How about sending more personal cards this year?
When to send a birthday card?
Every opportunity is good to send your first birthday card! Well... there still has to be something to celebrate. Fizzer has thought of you by creating 6 themes: adult invitation, children's invitation, adult or children's birthday cards, humorous cards and age cards (18, 20, 30, 40...). With this, you can be sure to send a unique card to the birthday boy or girl.
How to create a unique birthday card personalised with your own photos?
It's very simple! Download the Fizzer application on your smartphone or connect from the web. First of all, get some credits. Choose your card from over 100 birthday templates, add your best photos and personalise your front side with text and stickers. Then, let's write a text! Let your pen guide you and personalise your text with the colour, font of your choice and a few emojis. Create a stamp with a photo, choose one or more recipients and you're done! Your surprise is sent in an envelope.
How do I know my birthday card will arrive on time?
When you create your card, it is processed within 24 working hours. It is printed, stamped, enveloped and mailed every business day. After that, French Post's delivery times apply:
for France and Europe: 2 to 5 working days
for the USA, Canada and Australia: 4 to 12 working days
Rest of the world: 1 to 3 weeks
All you have to do is create your birthday cards in advance for all your loved ones! They'll be delighted to discover a lovely personalised surprise in their letterbox. Bonus: you can now add your contact's birthday date to your contact address book on Fizzer.
Manufactured within 24 hours