Surprise your other half with love 💌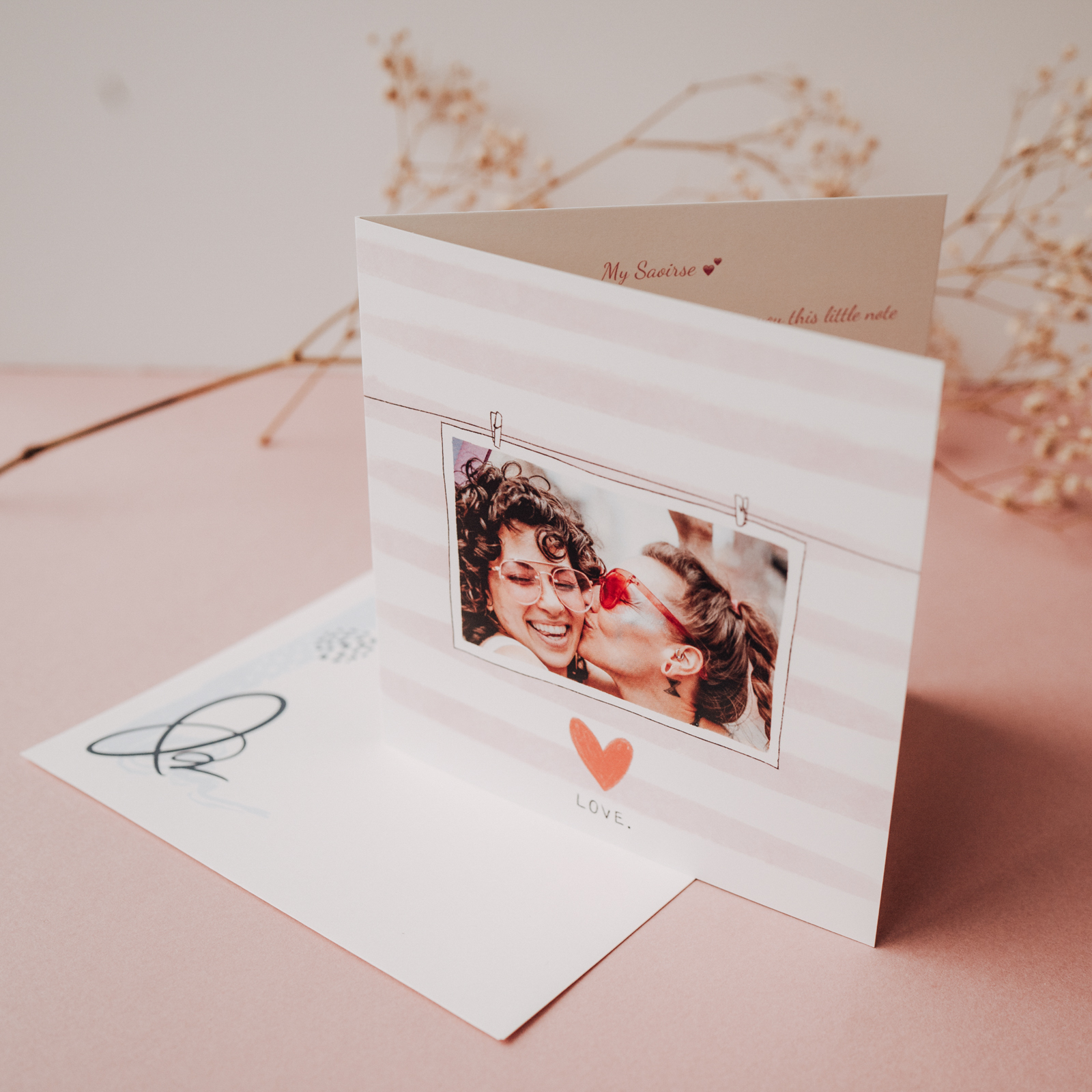 Say Hi to your loved ones
Postcard format (10x15 cm) or greeting card (14x14 cm)
Customizable as you like
Envelope included
Printed in France
How can I send a personalised card with Fizzer?
Choose a lovely postcard of Madrid
Choose a card among the many designs drawn by our illustrators, add the best pictures of you and your other half to it and personalise it with texts and stickers.
Write a personalised message
Write your message and personalise it thanks to numerous fonts and colours. Tell him or her how much they mean to you!
Send your card in just a few clicks
Create a unique card for you other half. Select their name in your address book and that's it!
Confirm your card and surprise your soulmate
Your card is posted in an envelope throughout the world. Get ready to take your loved one's breath away!
A small but, oh so romantic, gesture
To that person that makes your heart melt : your husband, your wife, your girlfriend or boyfriend, your partner or even your secret crush, tell them that you love them! There is nothing more pleasant than receiving a love letter from a soulmate or even from a secret admirer. And if there's one day to do so, it's Valentine's Day for sure! On lovers' day, (re)declare your love to him or her with pictures and kind words. 💗
Want to make your soulmate happy?
Text ideas for your Valentine's Day card
Hey love, today it's been 3 years. It all went so fast! 3 years of love, laughter, travelling, recipes, cinemas, complicity… I could spend my whole life listing everything I love about us. Happy Valentine's Day my love!
Darling, I know we said "nothing for Valentine's Day this year" but I couldn't resist. I found our first picture as a couple and used it to make a card for you. Thinking of everything we've accomplished since makes me so happy. I love you!
Happy Valentine's Day bunny! Thanks for being here for me, coming along on my adventures, making me laugh even in hard times and being the best boyfriend in the world. I can't wait for all the next steps in our relationship. I love you more than anything
When you create a postcard, your order is processed within 24 working hours. After that, La Poste's delivery times apply:
For France and Europe: 2 to 6 working days
For the USA, Canada and Australia: 4 to 12 working days
Other destinations: 1 to 3 weeks
Postcard size: 10×15 cm & Event card: 14x14 cm
Postcard format: recto/verso, greeting card: 4 pages
Postcard paper 330g - Event card paper 280g
Envelope : included
Shipping costs: included worldwide
All our cards are made in France
Ready to start your personalised card for Valentine's Day?
3 tips to melt their heart
📷 Find a great picture of you two
📝 Write a personal message to tell him or her how much you love them
🎁 Join a small gift or a date proposition to your card
Thanks to Fizzer, turn your most beautiful photos into personalised cards. Whether for your greetings, travels or the important moments of your life, send your personalised cards in a few clicks. Create your postcards and announcements, Fizzer takes care of the rest: printing, enveloping, postage and shipping.
What themes are available on the application?
Fizzer is not just for Valentine's Day cards. Fizzer is also for postcards, birthday cards, invitations for adults and children, christening, communion and wedding announcements, congratulations cards and much more!
How can I create a personalised Valentine's Day card ?
Nothing could be simpler! We guide you in a few steps and a few clicks. First, log in to the Fizzer application in your browser or on your mobile, add credits and start creating your card. Select the design you like the most, add pictures of you two, write a personal text, sign with your fingertip and that's it. All you need to do now is select your recipient. We take care of the rest!