Tell her how much you love her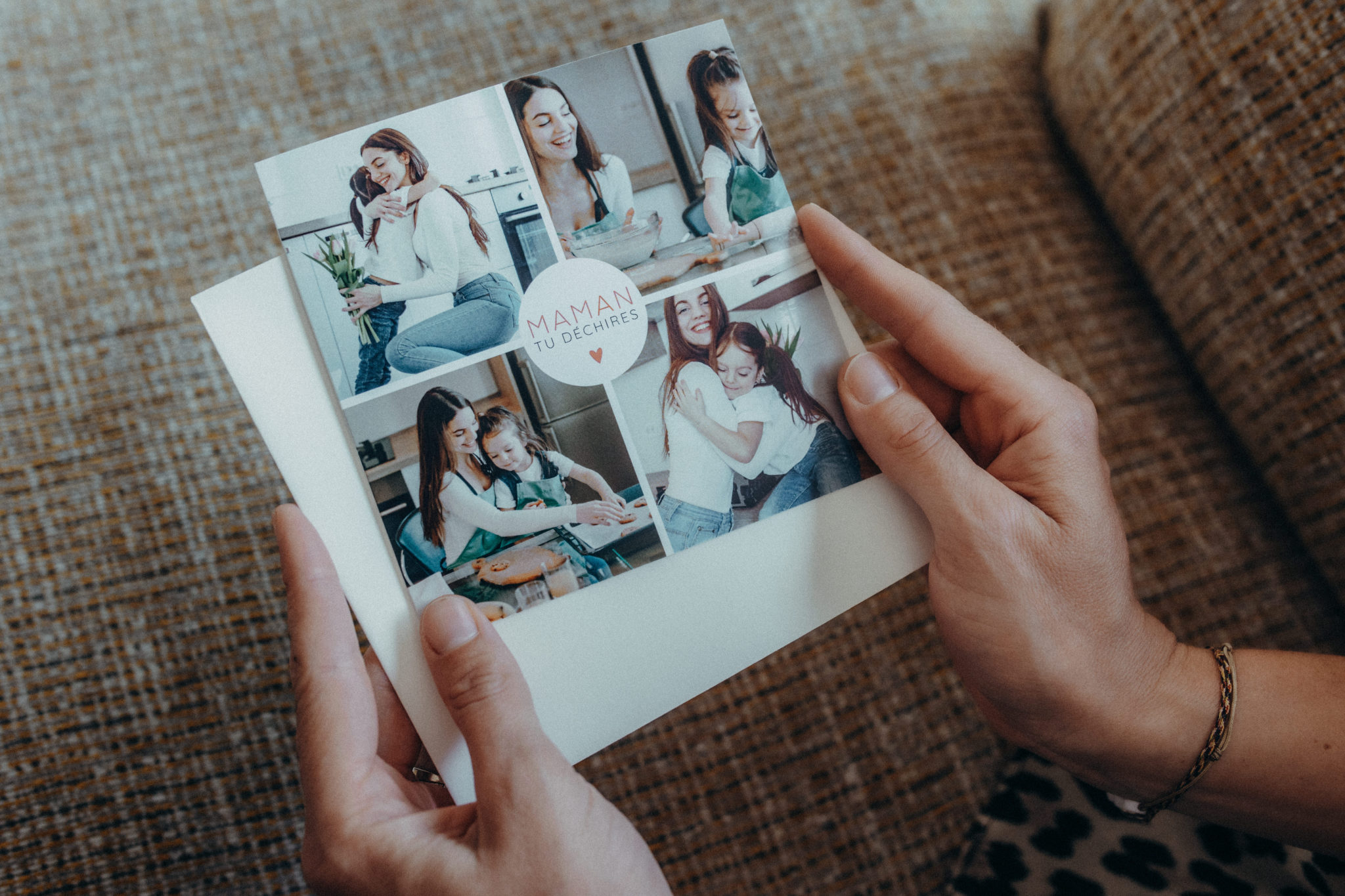 Personalise a postcard with your own photos
Send a card from anywhere in the world
Share your best memories with friends and family
How can I send a personalised card with Fizzer?
Create and personalise your card
Choose a card among many models designed by our illustrators, add your favourite photos of your mom and you, and personalise it with texts and stickers.
Write a personalised message
Select a postcard back with or without an address, write your message and personalise it with many fonts and colours. Tell her how much you love her!
Add one or several recipients
For your mom, your mother-in-law, create a unique card! Select their name from your address book and you're done!
Confirm your card and surprise your mother
Your card is shipped in an envelope anywhere in the world. Your mom will be surprised for sure by this nice attention!
Because she deserves the best
Your mummy's unique and you owe her so much. Her strength, her advice, her good ideas, her amazing recipes, her kindness, her jokes… and so much more ! You show her your love all year long but there is one day in particular that's dedicated to her : Mother's Day. It's the perfect occasion for a symbolic gesture that will go straight to her heart for sure. Whether you make a call, send her a card or buy her a present (or all three options!): there are a thousand different ways to tell her I love you. 💘
Want to make your mum happy?
Text ideas for your Mother's Day card
My darling mum, I mean it every day of the year but I'm telling it to you especially today: thank you. For who you are and what you do ; for me, and for others. The world, at least my world, is a better place thanks to you.
Dear mum, now that I'm a mother myself, I truly understand how much you gave of yourself in order to raise us with so much love. I don't know what I would've done without you all these years. I love you very much.
Mummy, here's a photo of us a few months after I was born. I love the fond and proud look you have on the picture. 25 years have gone by since then but our mutual love remains unchanged. Happy Mother's Day mum !
Ready to send a lovely attention for Mother's Day ?
When you create a card, your order is processed within 24 working hours. After that, La Poste's delivery times apply:
For France and Europe: 2 to 6 working days
For the USA, Canada and Australia: 4 to 12 working days
Other destinations: 1 to 3 weeks
Postcard size: 10×15 cm & Event card: 14x14 cm
Postcard format: recto/verso, greeting card: 4 pages
Postcard paper 330g - Event card paper 280g
Envelope : included
Shipping costs: included worldwide
All our cards are made in France
3 tips to make him happy on his day
📞 Call them to give news
💛 Tell him you love him
👩‍👧‍👦 Offer to spend some mother-daughter/son quality time soon
Thanks to Fizzer, turn your most beautiful photos into personalised cards. Whether for your greetings, travels or the important moments of your life, send your personalised cards in a few clicks. Create your postcards and announcements, Fizzer takes care of the rest: printing, enveloping, postage and shipping.
What themes are available on the application?
Fizzer is not just for Mother's Day greeting cards. Fizzer is also for postcards, birthday cards, invitations for adults and children, christening, communion and wedding announcements, congratulations cards and much more!
How to create a personalized card for your mom?
Nothing could be simpler! We guide you in a few steps and a few clicks. First, log in to the Fizzer application in your browser on on your mobile, add credits and start creating your card. Select the design you like the most, add picture of you and/or your mother, write a personal text, sign with your fingertip and that's it. All you need to do now is select your recipients. We take care of the rest!