Send a personalized card to your mom for her party!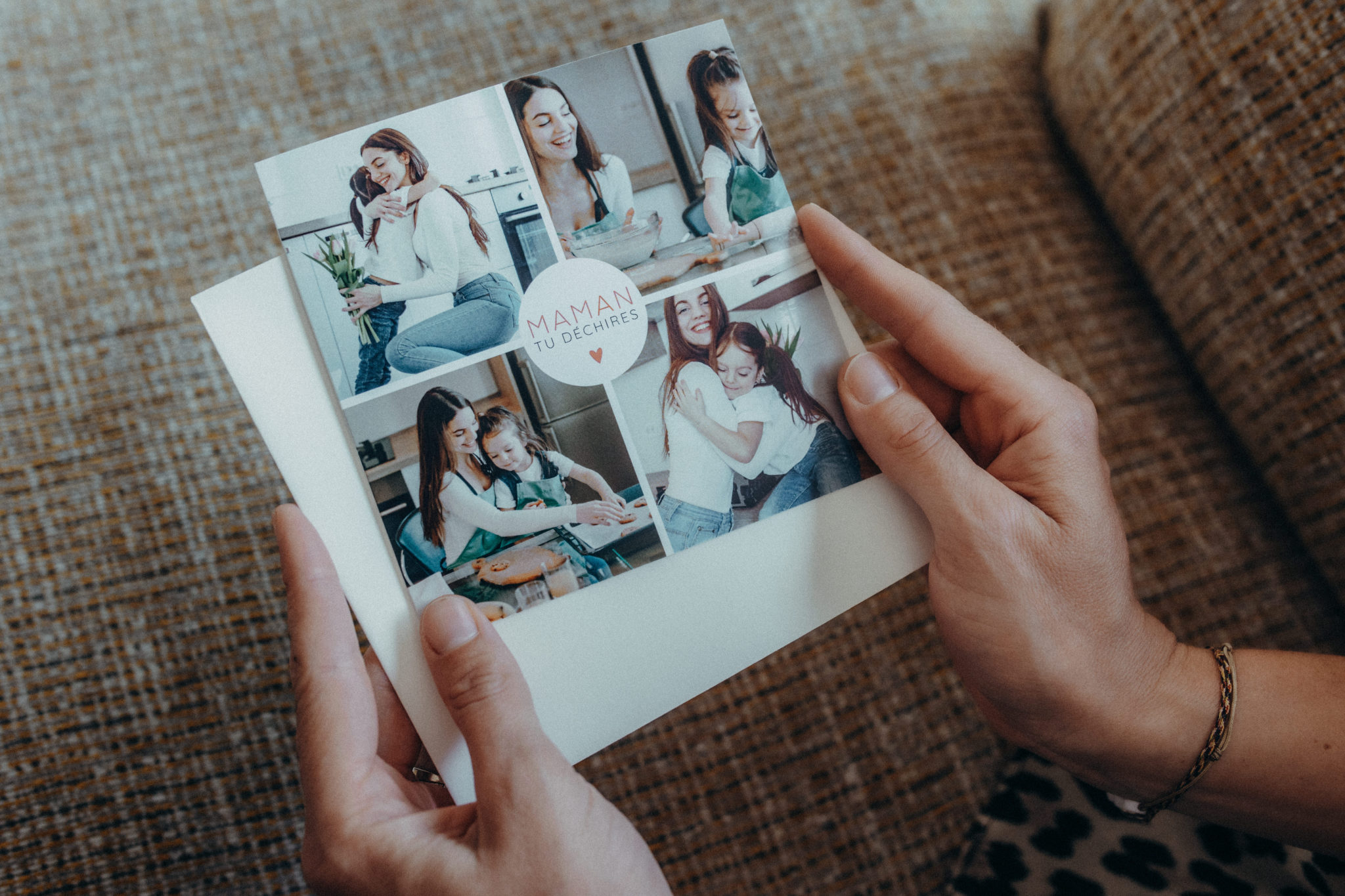 Personalize your Mother's Day card with a photo.
Send it from France or abroad.
Share your most beautiful memories with your mom!
How to send a Mother's Day card with Fizzer?
Create and personalize your Mother's Day card
Choose a Mother's Day card from many models designed by our illustrators. The choice is wide and there is something for all tastes and all moms!
Choose your most beautiful photos of your mom
Snapshots of you, your family and your mother, there are many. Select your favourites, those that illustrate your fondest memories. Then, import them directly to your Mother's Day card!
Write a personalized message to tell her you love her
Select a back with or without address, write your Mother's Day message and personalize it with many fonts and colors. Tell her how much you love her!
Validate your card and surprise your mum for her birthday
Your card is shipped in an envelope anywhere in the world. Your mom will be surprised for sure by this nice attention!
Our different styles and formats
Your mom deserves the best: send her a card for Mother's Day!
Your mom is unique. Full of strength, she educated and pampered you. Her strength as a super-mom, her wise advice, her good ideas, her great recipes, her little attentions, her jokes: each of these things fills you with joy and gratitude towards your mamounette. To show her your love, there is a special day dedicated to all mothers: Mother's Day. This annual party celebrates moms, each one more incredible than the next. This is the perfect opportunity to make a small symbolic gesture that will not fail to touch her heart. Whether it's a phone call, a card, a magazine, a gazette or even a gift: there are a thousand ways to pay homage to your mother.
Want to make your mum happy?
Text ideas for your Mother's Day card
Mom, for Mother's Day I want to wish you the best and to thank you for the amazing mother that you are. I love you very much, your darling daughter.
Dear Mom, I think of you every day but on this special day that honors all mothers, I wanted to tell you one thing: thank you. For what you are, what you do: for me, you are the best. Happy Birthday Mom !
My dear mother, now that I am a mother myself, I understand how much you have given of yourself to raise us. I don't know what I would have done without you all these years. I love you, happy mother's day.
Ready to send a lovely attention for Mother's Day ?
When you create a card, your order is processed within 24 working hours. After that, La Poste's delivery times apply:
France and Europe: 2 to 6 days;
USA, Canada and Australia: 4-12 days;
other destinations: 1 to 3 weeks.
Dimensions postcard: 10×15 cm and event card: 14x14 cm;
postcard format: front/back, event card: 4 pages;
330g postcard paper - 280g event card paper;
envelope included;
worldwide shipping included;
all our cards are made in France.
3 tips to please your mom
The best way to please her is to give her a nice Mother's Day card. But besides that, don't miss these 3 tips to fill it:
Call her to let her know about you.
Tell him you love him.
Offer her a mother-daughter/son moment soon.
With these little attentions from you, for sure your dear mom will have a wonderful Mother's Day!
What Mother's Day card themes are available?
At Fizzer, you'll find multiple themes to celebrate this iconic day for moms. There is something for every taste ! Just go to the Fizzer application, select the format that suits you and then choose an illustration that will suit your mother. Floral patterns, a sentimental message, Happy Mother's Day wishes... There's plenty to choose from!
How to create a personalized card for your mom?
To create a card in the image of your mom, you must first choose the format that will please her. Then upload photos of you and her, showcasing your precious parent/child bond. Arrange them in such a way as to honor her status as a mother. Show her how important she is to you! On the back of your card, you can write a text for it. Tell her you love her, list her qualities, and above all wish her a Happy Mother's Day. Sign, add a photo stamp, and send! For her birthday, your mom will receive a pretty personalized card in her mailbox.
What message for Mother's Day?
A word of advice: put your heart into it. Your mom knows you by heart. She carried you for 9 months, educated you and brought you many beautiful things. Thank her with a sincere text that highlights her qualities as a mother. You can also choose a beautiful special Mother's Day poem. Honor her on Mother's Day, tell her you love her, show her you're grateful to her. Here are some examples of texts that you could write on your Mother's Day card. For more inspiration, check out our mothers day texts.
" Happy Birthday Mom ! You know, I know how much you did the best you could to be the best version of yourself with us. Today I thank you for the incredible mother that you have been. I love you mom. »
"A mother, we only have one. And I have the best there is. What luck ! You surpass all the others, you are the most beautiful and the most brilliant of moms. Happy Mother's Day ! »
"I've been thinking about this special day for a while now that honors you superhero moms. Strong and gentle, beautiful and special, you alone represent the beauty of all mothers, because you are the best. How lucky am I! I love my mom. Happy Mother's Day. »
How to find a card idea for Mother's Day?
It's simple: go to the Fizzer application and discover all the pretty illustrations that our graphic designers have created for this special day in honor of mothers. You will find original card ideas, flowery, or full of love and gratitude for your mom. The idea of sending him a card to celebrate his birthday will necessarily please him since it comes from you, his child. So go for it!
Does Fizzer offer do-it-yourself Mother's Day cards?
Yes, of course, Fizzer offers to create cards online to send to your mom (or other occasions). It's very simple to use, easy to access and the paper is of good quality. You can make your Mother's Day designs right in our app, save draft, send whenever you want. Just choose photos from your phone, personalize your Mother's Day card with stickers and text