Announce the date for your big day in style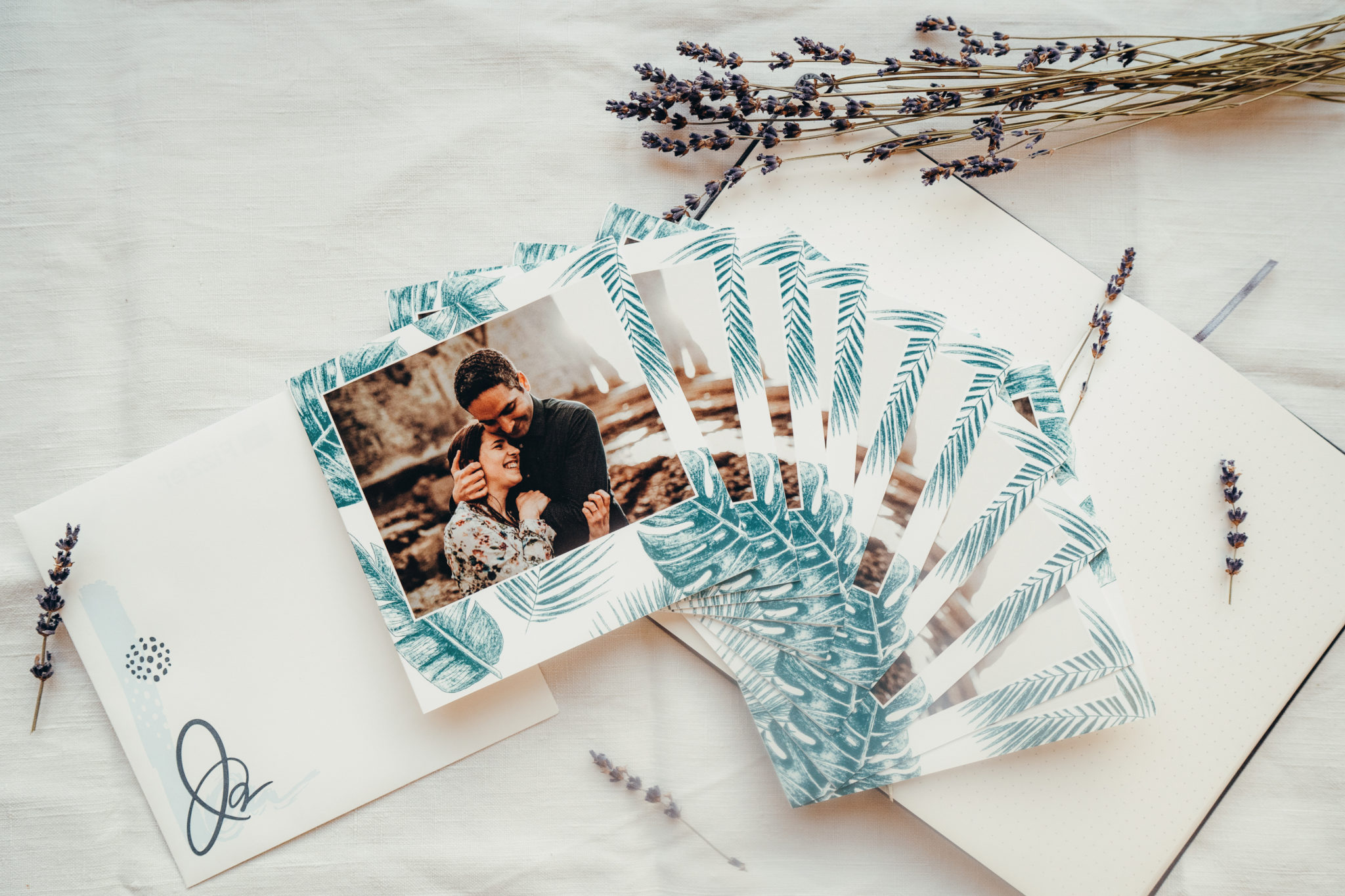 Size: 14x14cm

Customizable as you like

Envelope included

Printed in France
Personalize your cards with photos
Send a card from anywhere in the world
Share your most beautiful messages with your loved ones
How can I create a wedding invitation with Fizzer?
Select an invitation you like
Choose your card format and select your favourite design : colours, flowers, minimalistic patterns… we've got what you need! 
Add your best photos
Add one or several pictures of you two on your save the date. Love, tenderness, joy: go all out!
Write your personalised message
Write the same invitation for everyone or a personalised one for each group of guests : parents, best man, maid of honour, etc. Write your text on the Fizzer application to be delivered a pack of cards to be delivered to your inbox.
Send your save the date with style
Satisfied with your wedding invitation? Select your recipients, confirm and you're done! Fizzer takes care of the rest: your card is printed, put in an envelope, franked and sent 1 working day throughout the world. ✈
A great way to tell your great news
Congratulations, you're getting married. You'll soon be bound for life ! So much merriment and projects lie ahead. And the first to come : your wedding. Venue, catering, music : preparations are still a long way off. However, you've already set the date. You've written it in gold letters and circled it in your organiser! Make sure your loved ones are available on that day by letting them know as early as possible. You still have some time before sending the wedding announcements with all the deets, but do send your save the date as soon as you can thanks to a lovely wedding invitation. 💍
A wedding invitation that will make an impression
3 tips for a perfect wedding invitation
📅 Write the date clearly on the front of the invitation 
👫 Specify the names of the invitation recipients to avoid confusion
💌 Ask for an RSVP, with a deadline
Want to start your kinfolk invitation?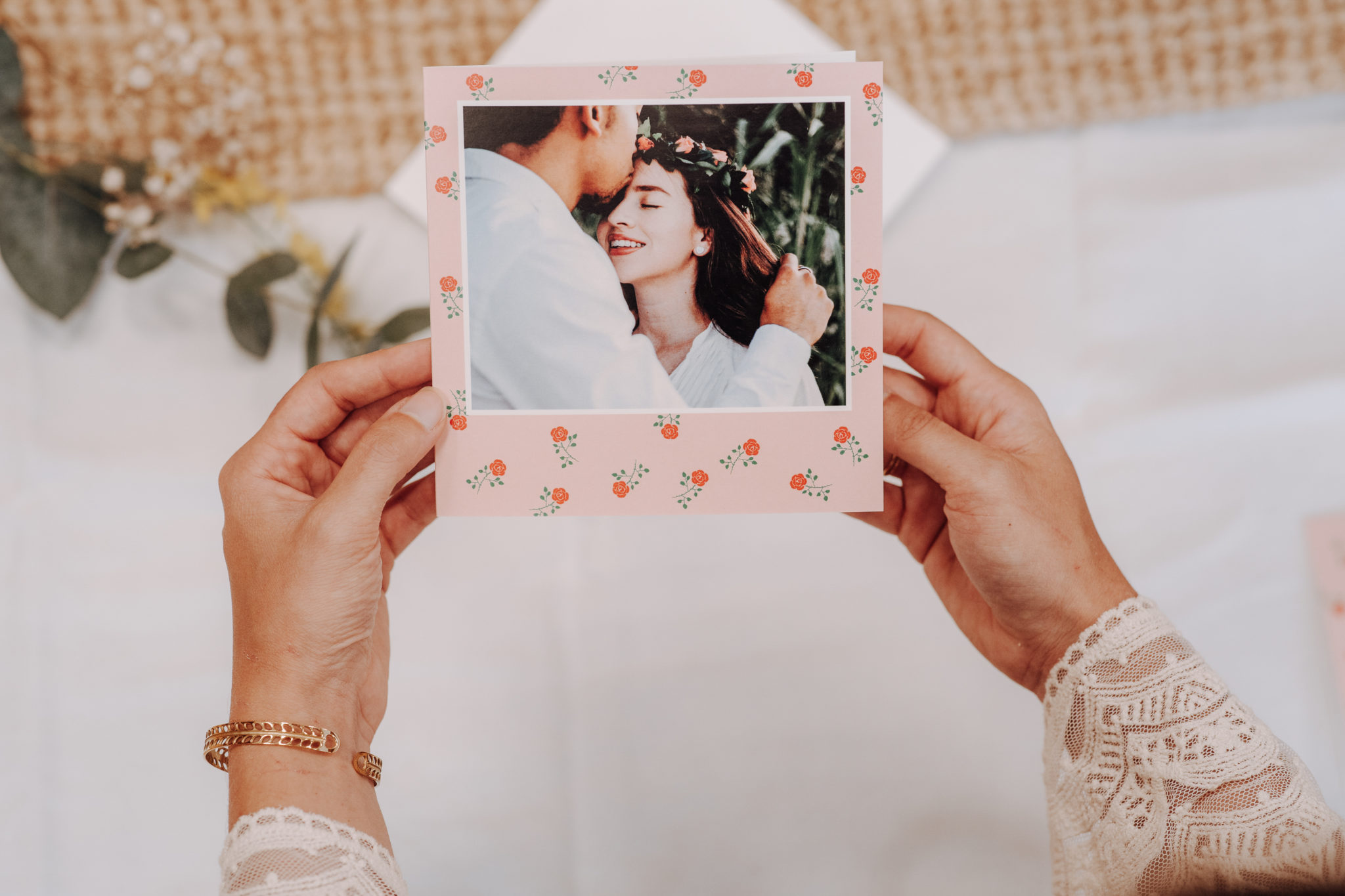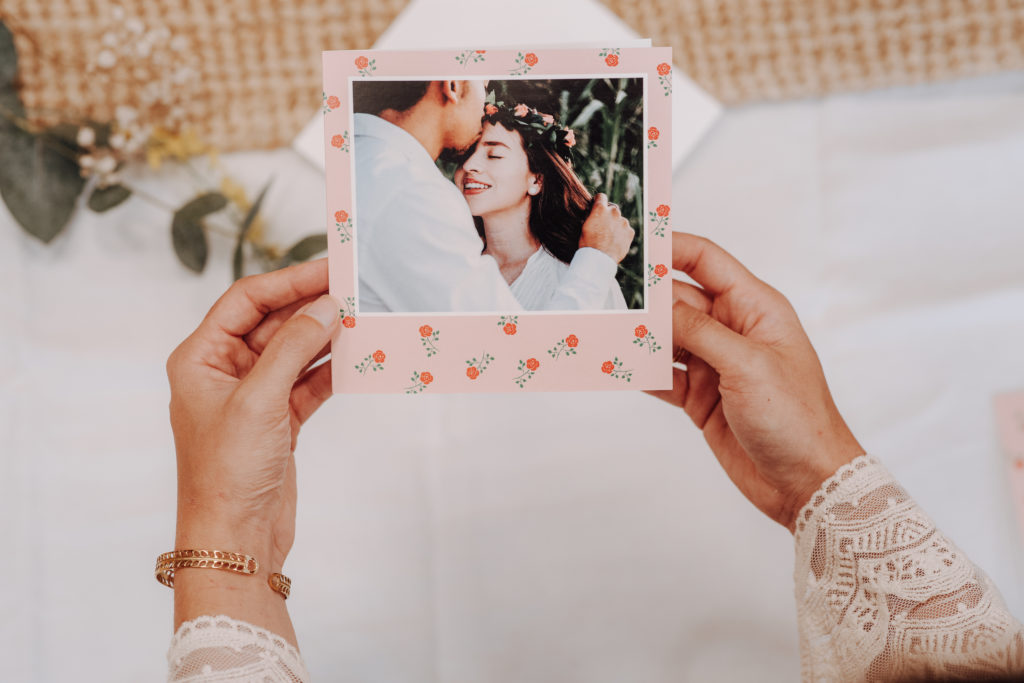 When you hear "wedding", you think "go all out". You want the whole package : luxurious setting, princess dress, three piece suit, wedding cake and a decoration that's been thought through down to the smallest detail. Look no further, what you need is a chic and elegant wedding.
Ready to create your chic and elegant invitation?
I want my boho invitation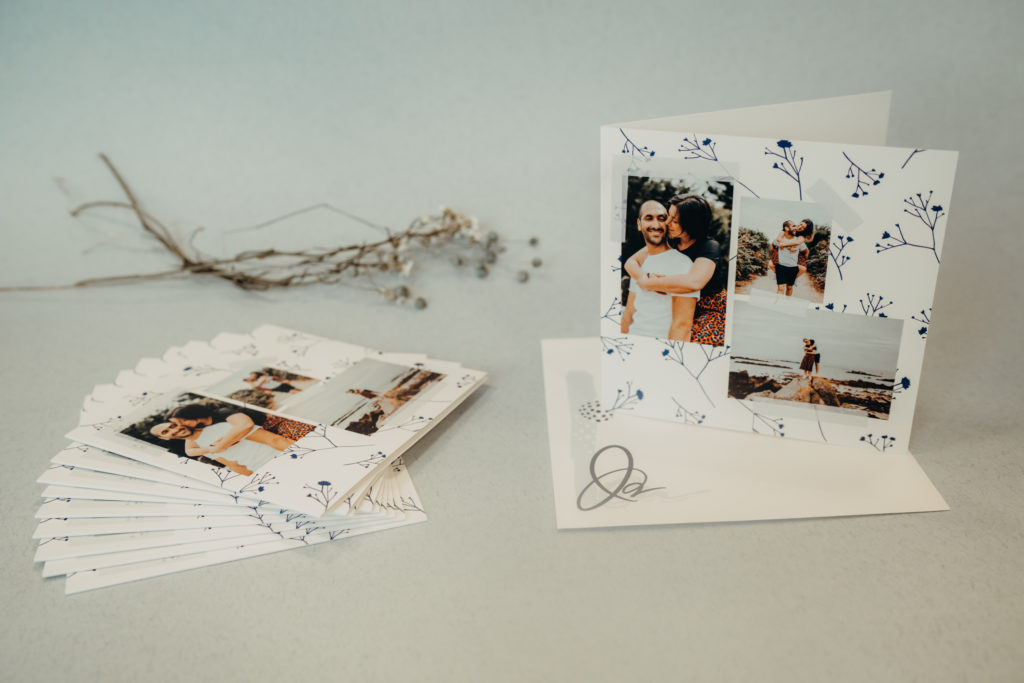 Nostalgic for the styles of yore : Roaring Twenties, Swinging Sixties, art deco, 50's etc. You want a retro wedding with original costumes, salvage and cool bargain-hunted objects? You can easily picture yourself arriving to your wedding on a Vespa or in a Volkswagen Beetle? Your ceremony looks like it's gonna be vintage as can be !
Did somebody say vintage invitation?
When you create a card, your order is processed within 24 working hours. After that, La Poste's delivery times apply:
For France and Europe: 2 to 6 working days
For the USA, Canada and Australia: 4 to 12 working days
Other destinations: 1 to 3 weeks
Size: 14×14cm
Format: greeting card, recto/verso
Paper 280g
Envelope : included
Shipping costs: included worldwide
All our cards are made in France
Want your fairytale-like winter wedding?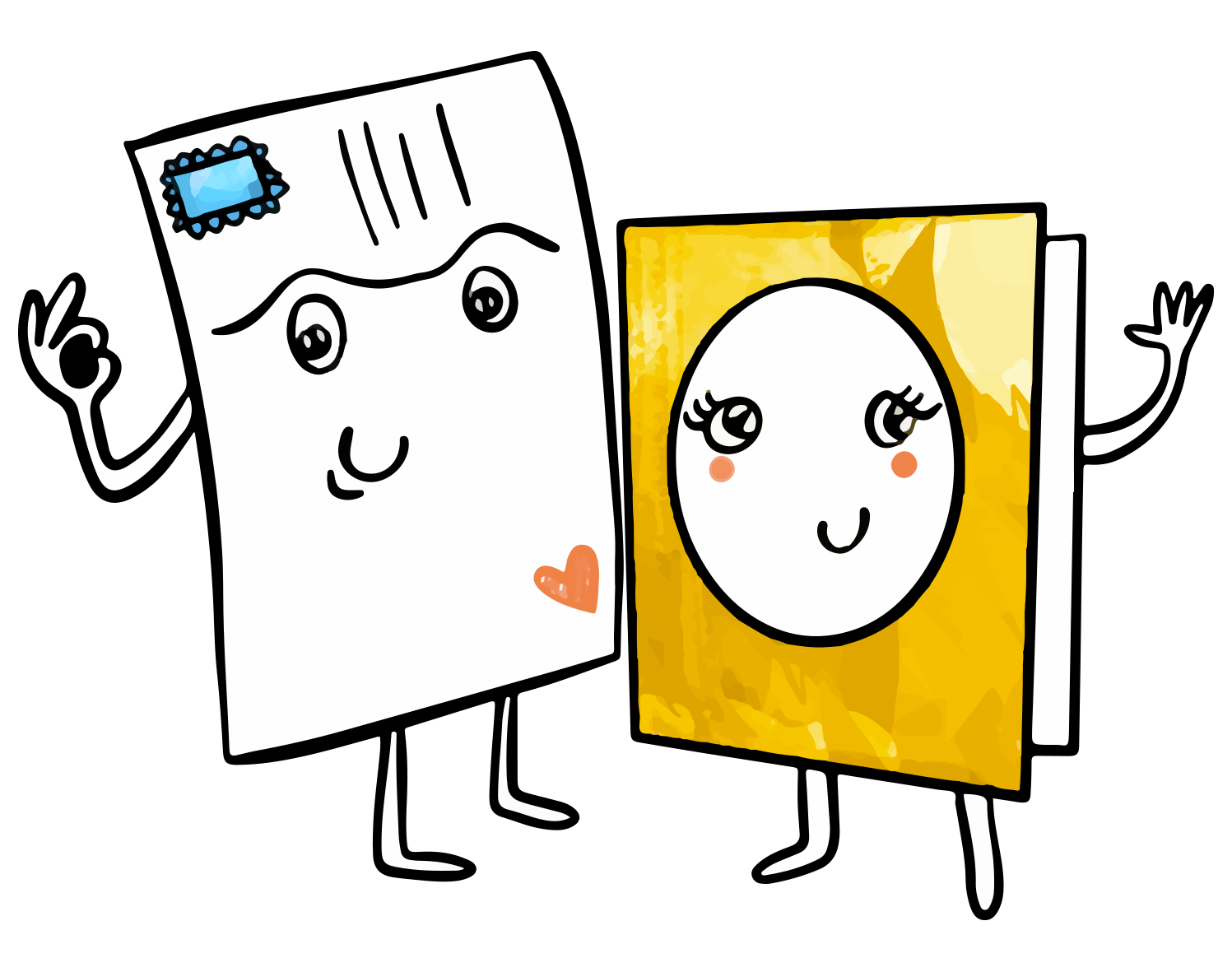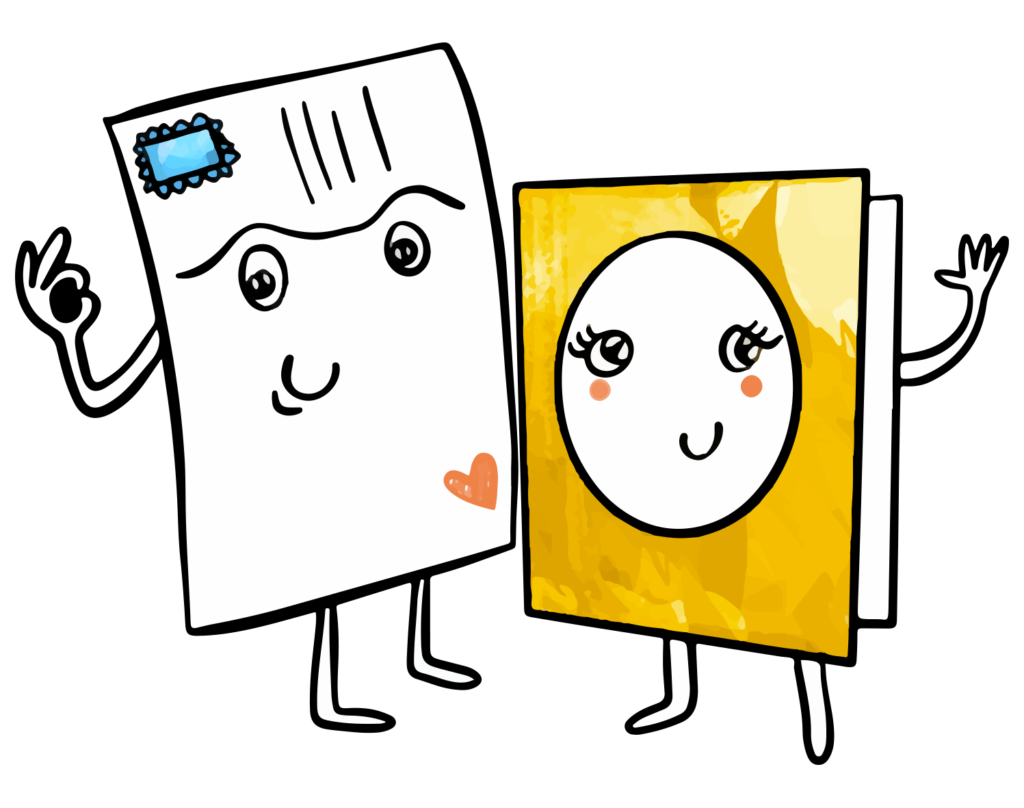 Need help? Any questions? Our team answers you within 24 hours, 7 days a week
Thanks to Fizzer, turn your most beautiful memories into personalised cards. Whether it's for your travels and holidays or the big milestones of your life, send your personalised cards in a few clicks. Fizzer is available on web and mobile. Create your postcards and announcements, we take care of the rest!
What themes are available on the application?
Fizzer isn't just about wedding invitations. In the same theme, discover cards for your Save the Dates but also thank you cards to show your gratitude. After this happy event, don't forget to thank your loved ones for their presence, support, smiles and gifts. Fizzer also offers birthday cards, invitations for adults and children, birth and baptism announcements, congratulations and many more!
How can I create a personalised wedding invitation?
Creating a personalised wedding invitation has never been so fast! Log in to the Fizzer application on the web or mobile, add credits to your account and start creating your invitations. Choose your favourite illustration according to the theme of your wedding (kinfolk, boho, chic, vintage), add a photo of yourself, write a personalised text, sign with your fingertip and that's it. All you have to do is select your recipients and we'll take care of the rest.