Happy Birthday & Invitations
1 more year, here we go!
A loved one's birthday is coming up in a few days and you want to send him or her a nice birthday card for the occasion? You're quite right. Would you like to celebrate yours in good company? Good idea too! Anyway, you open the Fizzer application, choose your card and there... the inspiration crashes. What text should you write on this birthday card? How to be original without overdoing it? How to address a child so that the card is funny? All the answers to these questions are on this page. Here, find examples of birthday card texts Funny, original, for your male and female friends, children, your best friend and... for yourself if you want to announce the festivities and invite your friends and family. So choose your text template and let the party begin!
Text for original birthday card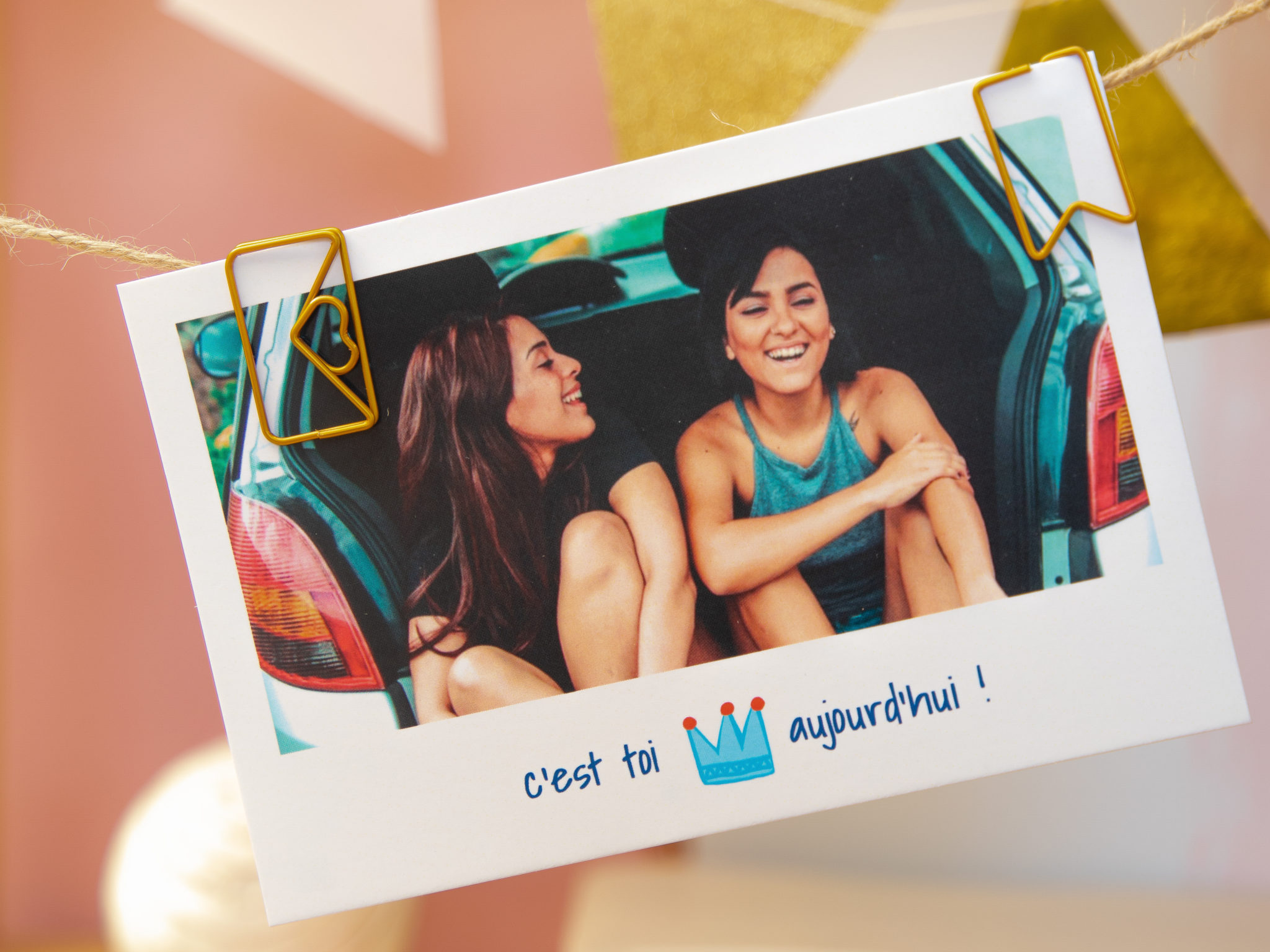 How do you get away from the traditional "Happy Birthday, celebrate!"? For this new birthday card, opt for an original anniversary text. Add a bit of humour, recall your best memories of the two of you, sprinkle in a few clues for a gift hunt, in short, discover a whole bunch of original ideas for this event that is not to be missed.
"Your mission, if you accept."
"Happy Birthday! This year, your mission, if you accept it, is to go to 5 avenue du Général de Gaulle at 8 p.m. this Saturday, dressed in your most beautiful assets and a hell of a catch. Forbidden to ask questions about this event. All I can tell you is that it promises to be one hell of a time that should please you very much. So I'll see you Saturday.  »
"This year, it's up to you to get to your gift."
"Happy Birthday! This year, it's up to you to get to your present. To do so, we have concocted a little treasure hunt that will take you there. Read all the clues and when you've solved the puzzle, head to the garage where we'll unveil the surprise for your 18th birthday. 3...2...1, go! »
"As Schopenhauer said..." 
"Happy Birthday! As Schopenhauer said, 'Everything exquisite ripens slowly'. I think that quote fits you perfectly. The better you do, the more successful you are in life. You do things little by little and the result is only better. Keep it up, Schopenhauer and I are proud of you! »
Want to create an original card?
Text for humorous birthday card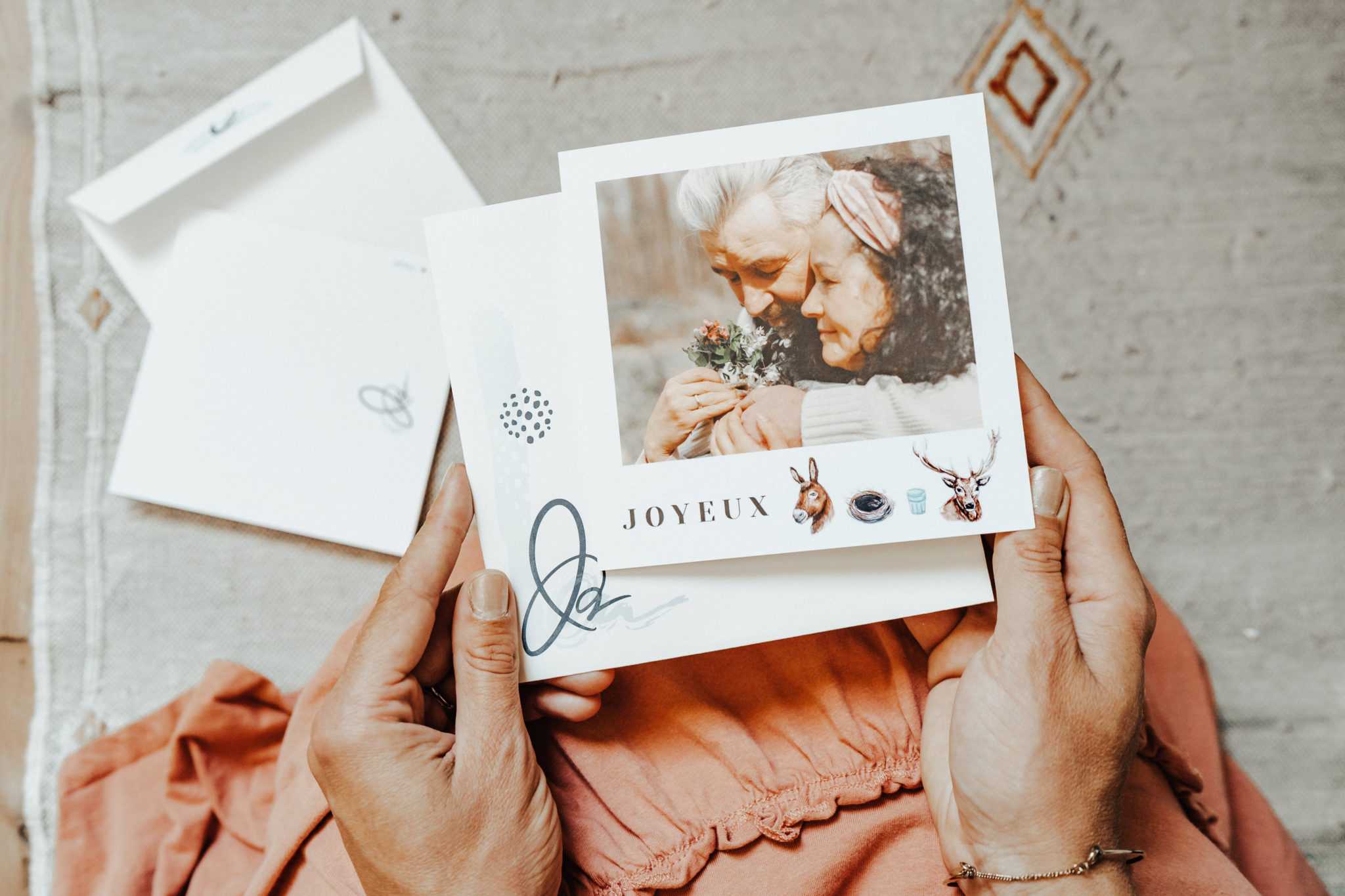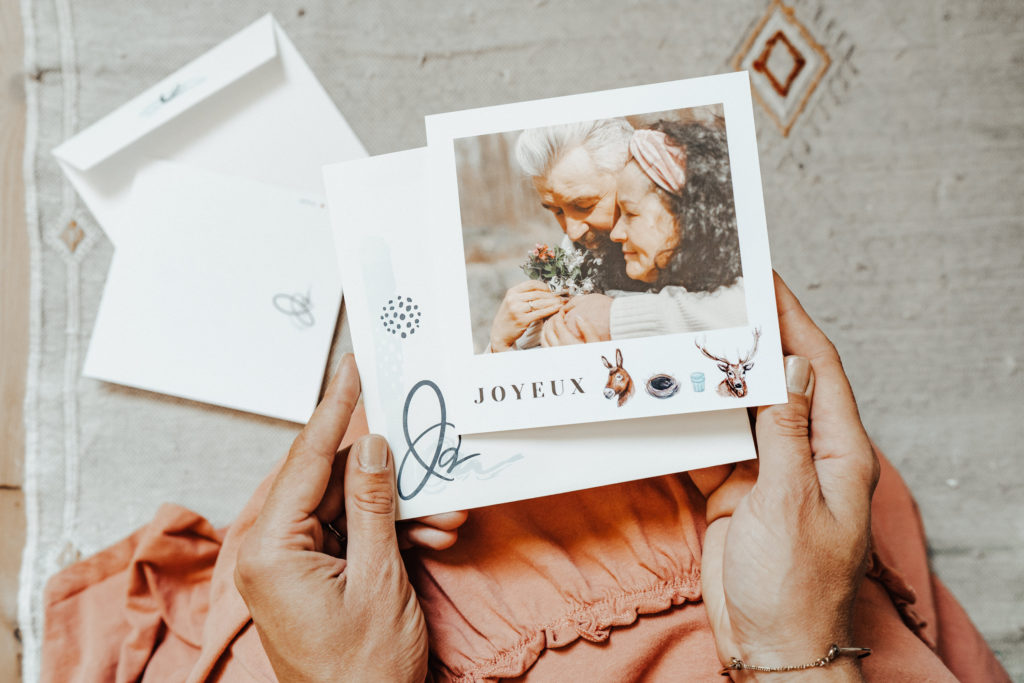 Come on, we know that you guys love funny birthday texts . So let loose with the traditional jokes about age, years of living together, nicknames galore. Humor yes, but always with respect please!
"Happy birthday my old man"
Happy Birthday, man! And yes I know, like every year, you're only a year older than me but I can't help but remind you that you're the oldest of us both. But you know I allow myself to do that because it's not at all obvious. X years old and you're still as fresh as a roach! What's your secret? To have great friends like me for sure it must help ;). Big kisses and happy birthday again 'grandpa'.
"To think that I've put up with you for 20 years."
Happy Birthday, scoundrel! When I think that I've put up with you for 20 years, I think that I should be the one to say 'congratulations'! Hey hey, I'm kidding, of course. You know I love you and without you I'd be nothing. Don't ever change!
"Happy birthday to my daddy!"
Happy birthday to my cool daddy! A nickname that suits you so well because at 60 you're cooler than ever. What will it be when I'm 90? I wish you lots of rock concerts to come, motorcycle rides, trips with mum and so on. I'll give you a big hug.
Ready to surprise someone close to you on their birthday?
Text for children's birthday card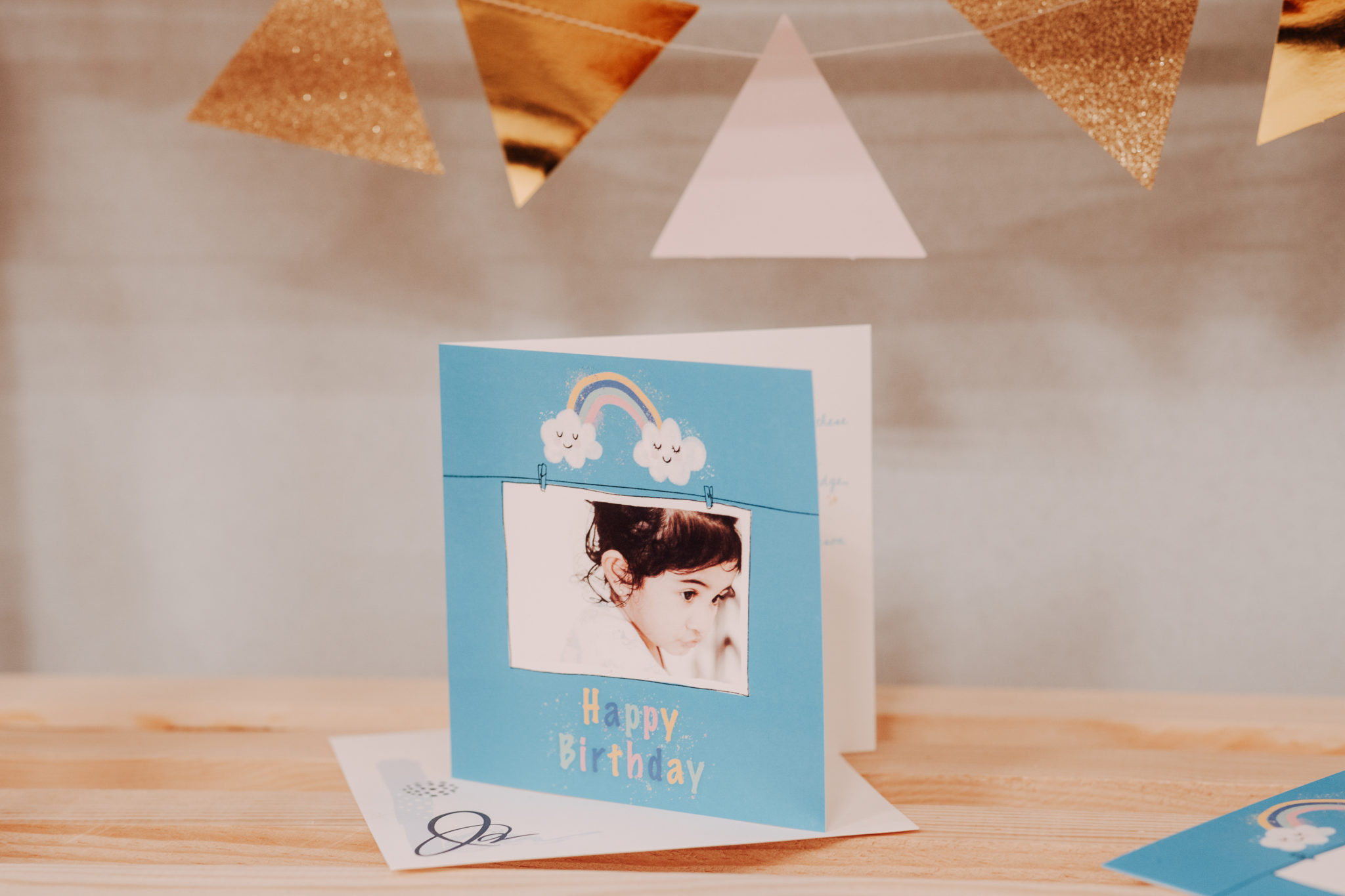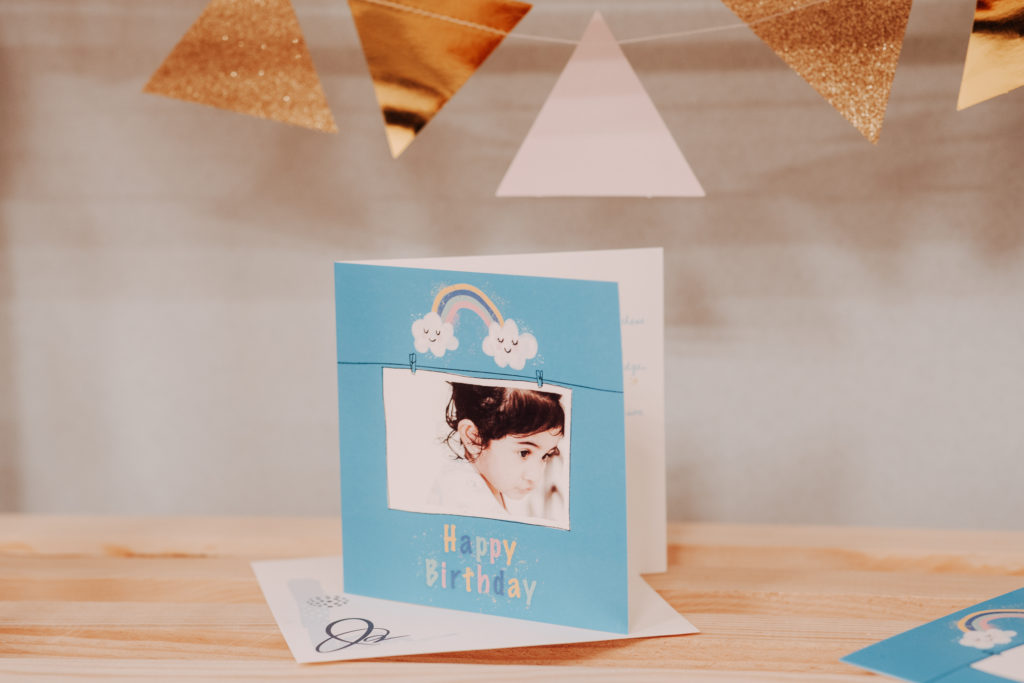 A kid is celebrating his new birthday and, for him, it's the most important event of the year (along with Christmas of course). So yes, you will certainly give him a nice present but, with a personalized card, he will keep a nice souvenir of you that he will be able to re-read year after year. What can you write to make him like the card? A little joke, childhood memories, encouragement and congratulations, get your text for kids' birthday.
« A little birdie told me »
"A little birdie told me that today was the birthday of someone very special... But who could it be? You, of course! That's right my girl, it's your day! You didn't think I'd forget about you, did you? I wish you a wonderful birthday! See you soon in [signature]".
"My eternal birthday card"
"Happy birthday, my [name]! You've grown up a lot, but some things don't change. And yes, as tradition dictates, here is my eternal birthday card. I want to congratulate you on the person you've become, and wish you all the best in whatever you have left to do. Affectionately, [signature]. »
"I remember you like it was yesterday."
"Dear [first name], I wish you a happy birthday! I remember you, as if it were yesterday, making your tree houses and building your sand castles. Who knows, maybe there is a future architect in you? There's only one way to find out, keep moving forward as you do. Love from [Signature]. »
Will you send her a nice card for the occasion?
Text for women's birthday card
A woman in your life blowing out candles? Here, too, you need to make a good impression with a nice text for her birthday. Whether it's for your mother, wife, sister, friend or colleague, choose a message that will make her laugh and bring back fond memories. 
"Hello, old girl! »
"Hello, old girl! Happy Birthday! I would like to congratulate you for not getting a wrinkle despite your advanced age. It's true that thinking you're x years old reminds me that we've been friends for... x years. That doesn't make us any younger. But in our heads we're still just as crazy as ever and that's what counts. Don't change a thing! »
"Wonderful birthday girl! »
"Wonderful birthday girl! How proud for a mom and dad to have such an amazing daughter like you. You are a real ray of sunshine that lights up everything around her. Even though sometimes I feel like you are still my little baby, I realize how much you have grown and become a complete person. Big kisses my precious. »
"Happy birthday to my better half, my favorite person in the whole world."
"Happy birthday to my better half, my favorite person in the whole world. Not a minute with you goes by without me realizing how lucky I am to have you. Only with you do I share so much and look forward to sharing the rest of my life. I love you."
Text for men's birthday card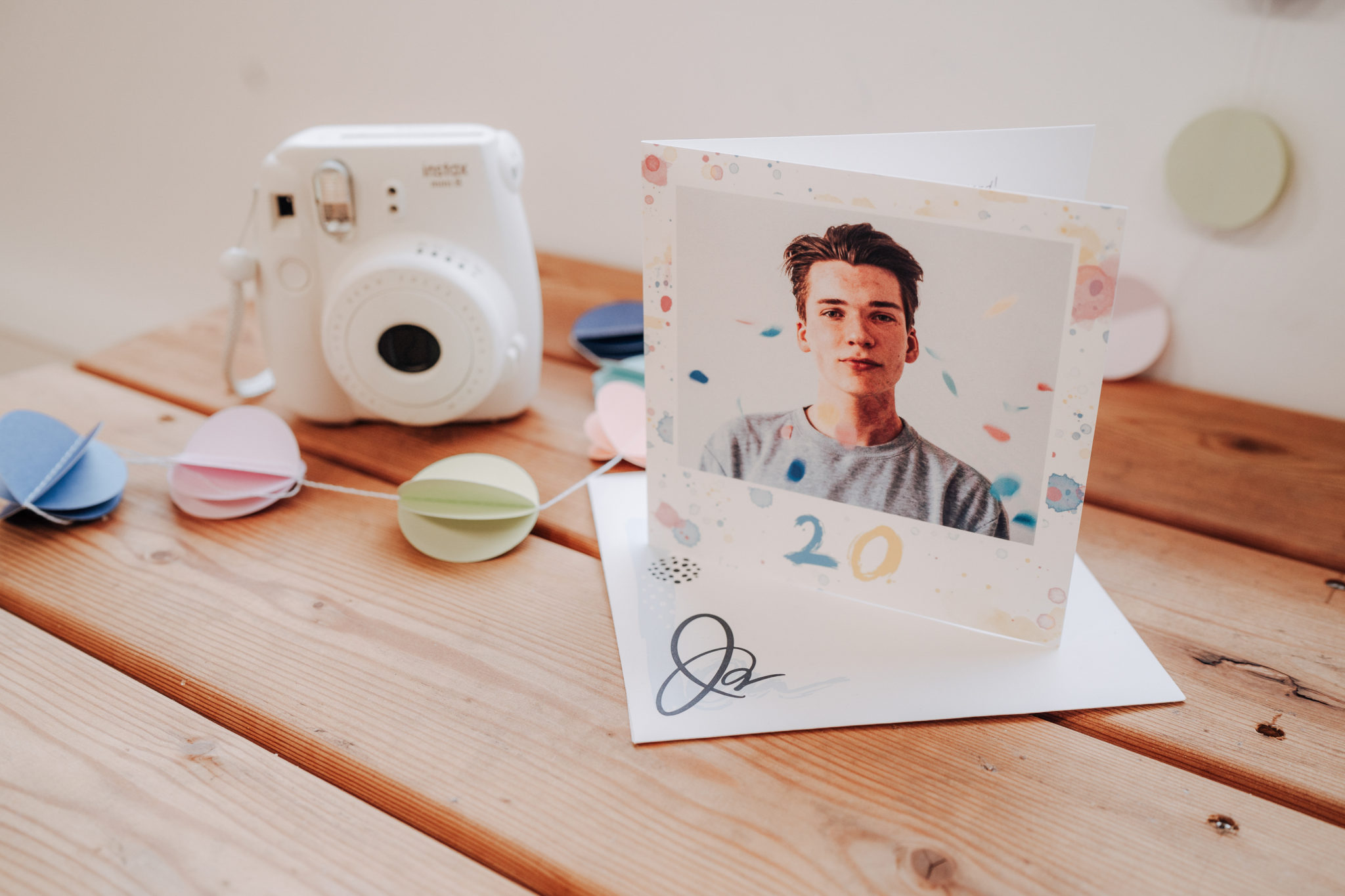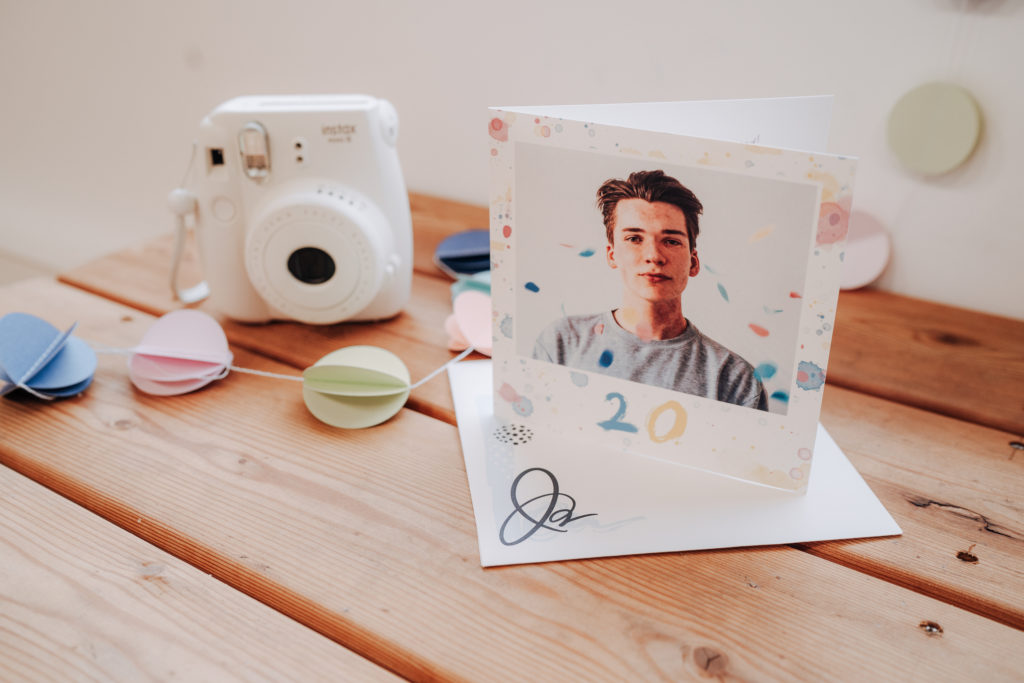 A good big joke here, memories there and above all, a good dose of love or friendship for this man who is soon to celebrate his birthday. Find here examples of birthday card texts, whether it's for your father, a friend, a brother or a colleague. A card with a sweet and sincere message will always be welcome. We don't say no to little things.
"You're the best dad we could ever have."
Dear Daddy, I wish you a wonderful birthday. You're the best daddy anyone could ever have and I'm grateful to you every day. Keep on being as funny, caring and energetic as you are. A thousand kisses!
"How wonderful to be by your side again on this special day."
Happy birthday, sweetheart! How wonderful to be with you again on this special day. I've got lots of little surprises for you to discover throughout the day. For now, I'll start by wishing you all the happiness in the world. I love you, baby.
"May all your future plans come true!"
Dear [first name], we wish you a happy birthday. May all your future projects come true! We want you to know that you can count on us at all times. We give you a big hug.
Ready to send him your personalised card?
Text for best friend's birthday card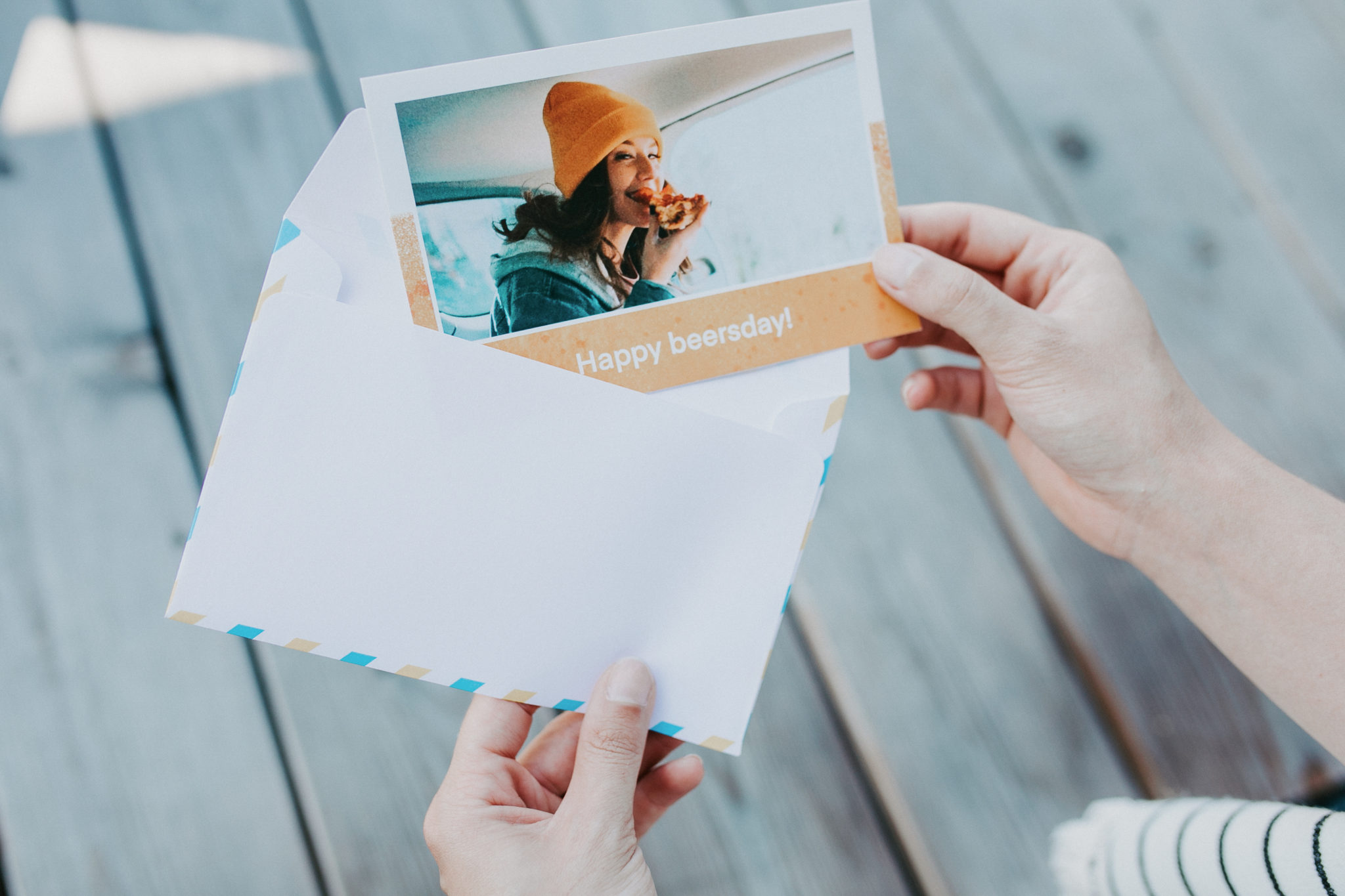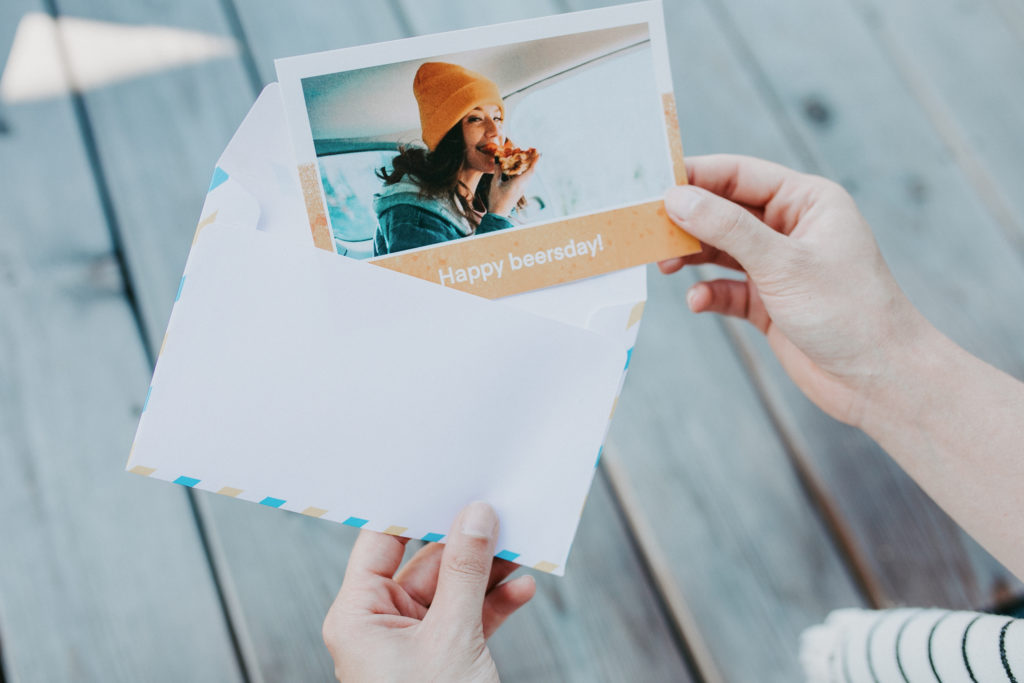 Look out, big night ahead! The best friend is celebrating his birthday soon and you can't fail to prepare a nice surprise for him. So, to wish him or her a happy birthday as it should be, bring back memories and show him or her how much he or she means to you. Find here a sample text for your birthday card.
"Anyway... my best friend."
Happy birthday to my evening sidekick, my napping champion, my sister at heart, my Netflix companion, my chef, my follower on all the networks, my soul mate, my confidant, in short... my best friend!
"All the memories we've shared bind us together for life."
Happy birthday my [first name]! When I think that 25 years ago we were running around in diapers in your grandma's garden and that today we are still best friends, I think the world is a good place. All these memories we shared unite us for life and make me smile every day when I think back. Thanks to you!
"I'd like to take this opportunity to tell you how proud I am of you."
A wonderful birthday to my [first name]! Today is your day, so I want to take this opportunity to tell you how proud I am of you and the person you've become. You gave yourself the means to do what you wanted to do, and now you are reaping the benefits. Keep up the good work, you're the best.
Why don't you start making your card?
Text for an invitation to a birthday party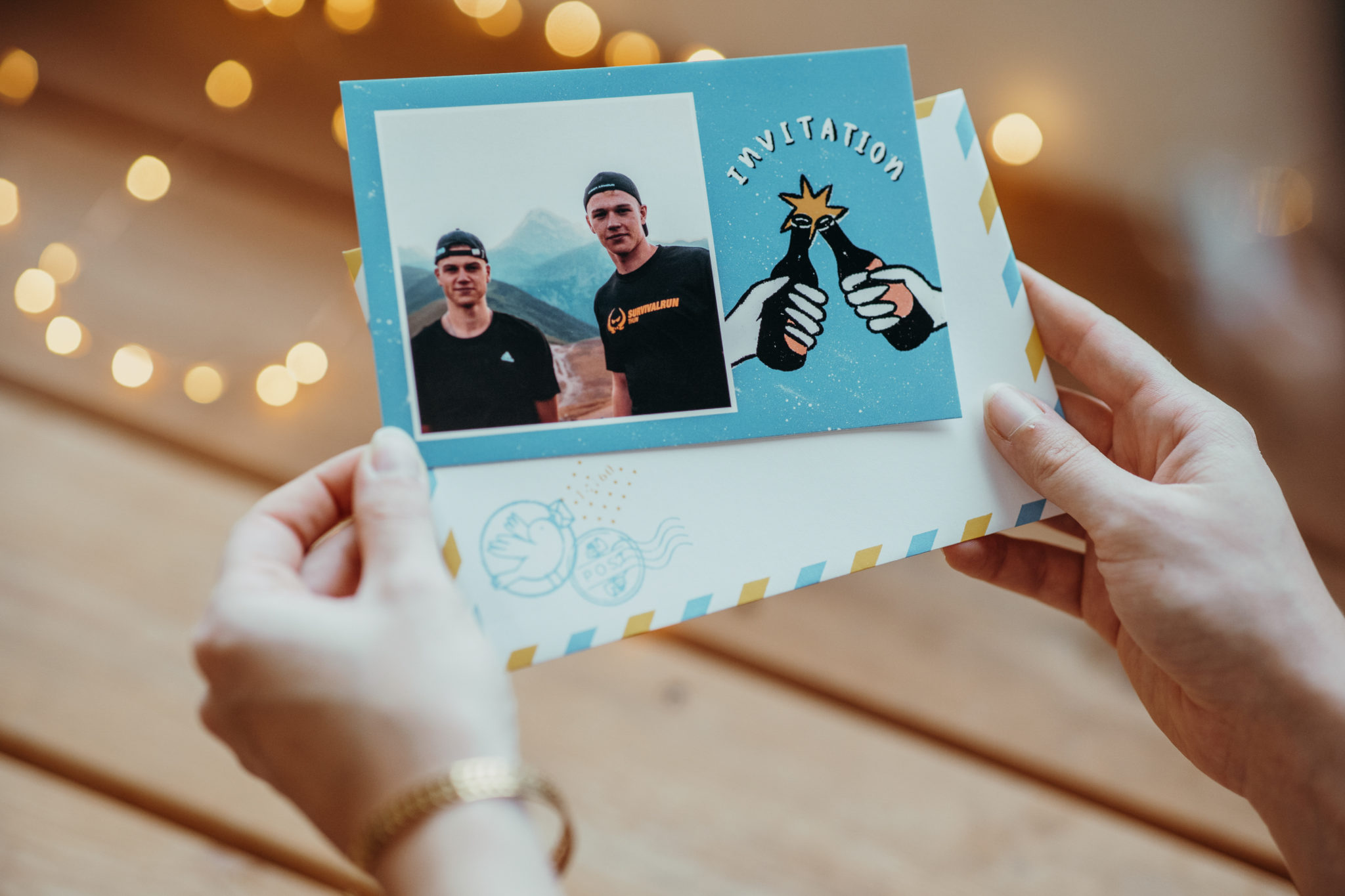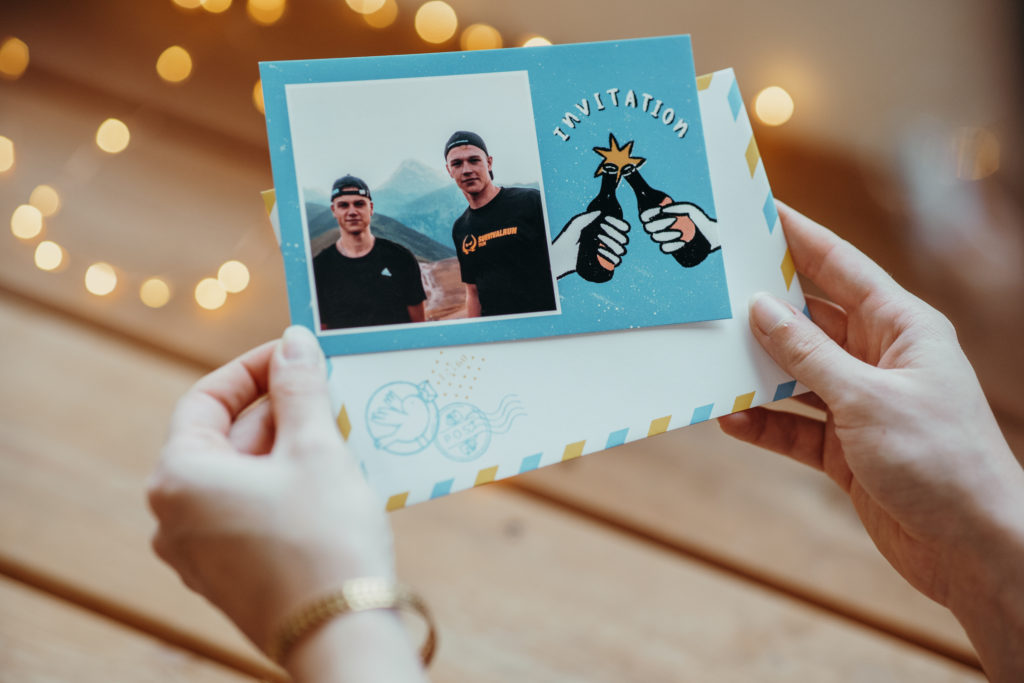 It's great to celebrate other people's birthdays, but what about your own? Whether you're celebrating your 20th, 30th or 50th birthday, one thing's for sure: invite your loved ones to celebrate with you! That's why Fizzer has found you... its favourite lyrics to announce the festivities....
Classic invitation text for adults 
"What are you doing on Saturday, October 5th? You're coming to my birthday party, of course! Yes, I'm celebrating my 35th birthday that night and it's unthinkable that I can do without you for this occasion. On the program: mölkky competition, karaoke and dancing until the end of the night. On the menu: champagne soup, a variety of petits fours and a competition for the best chocolate cake. Wouldn't it be a shame to miss that? See you on October 5th at 8pm at my place for an evening that promises to be rich in emotions. »
Humorous invitation text for children 
"My mom and dad didn't give me much choice. Apparently, seven years is a milestone. They told me that it was the age of reason and that it was the last birthday when I was allowed to do a lot of stupid things. And I didn't say no! So if you feel like having a giant water fight in my garden, a mattress sliding contest and above all to stuff yourself with sweets, don't miss my birthday snack on the 21st of September. Join me and all my friends from 3pm at home. It's going to be crazy! »
Invitation text for a surprise birthday party
"Are you out of sight the moment you read this invitation? If not, get to a safe place because I'm about to reveal some top secret information. Friday, September 27th, Louise is turning 30! She said she wasn't going to do anything for the occasion and she naively believes that we're going to leave her in her corner... Ha, if she knew what awaits her! We've planned everything to organize a surprise birthday party that she will remember for the rest of her life. Your mission, if you accept it, is to keep this event a secret and to come on Friday, October 4 at 7 p.m. sharp at Louise's house, where the surprise will take place when she gets home from work. So see you then... and shh!"
Ready to announce the party of the year?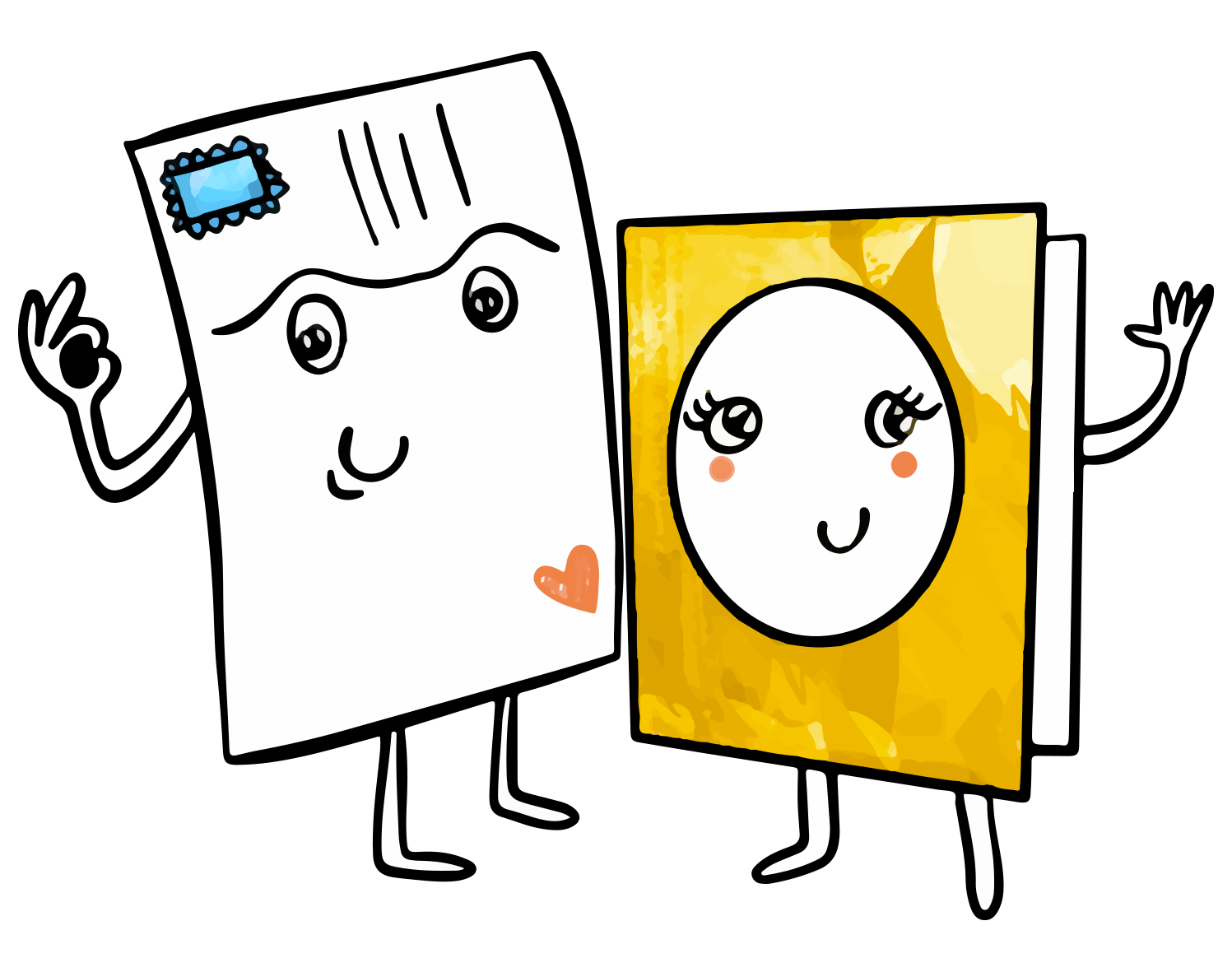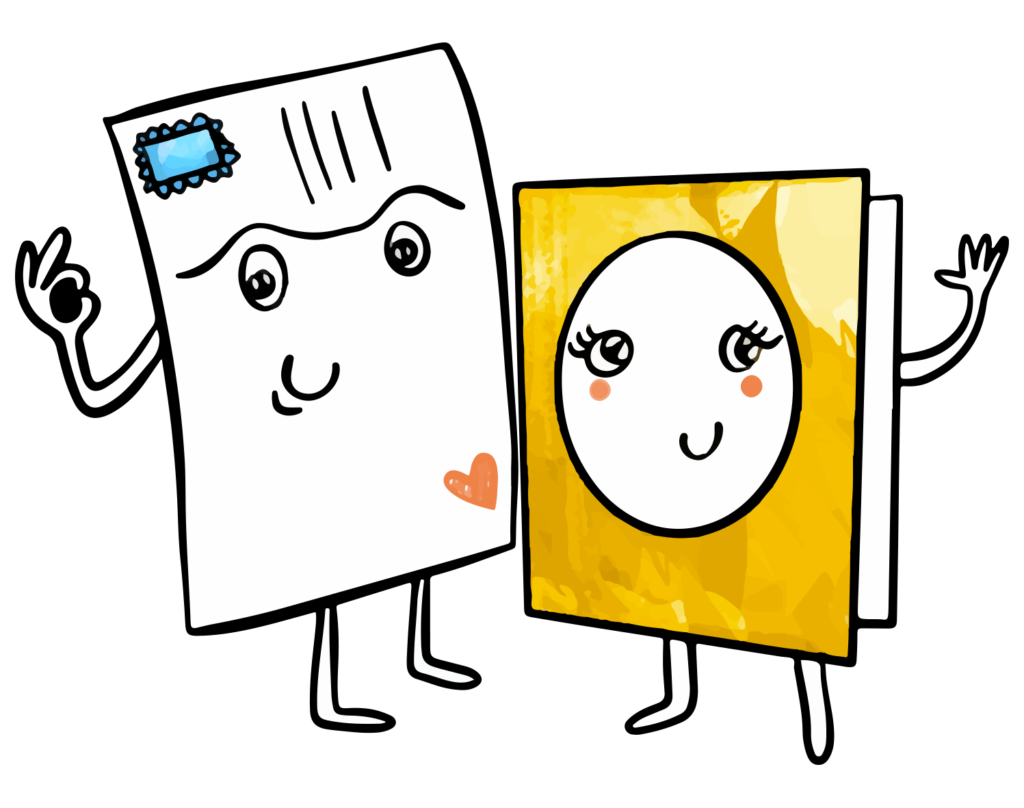 Need help? Any questions? Our team answers you within 24 hours, 7 days a week
The Fizzer application, created 5 years ago and based in Normandy, allows you to transform your own photos into personalized cards: postcards and invitations. No need to go to the post office anymore. You create your card, we take care of the rest: printing, enveloping and postage worldwide.
How do I create a personalised birthday card?
Follow the guide! Log in to your Fizzer account via the Android or iOS application, or on the web. Get credits, choose your favorite card size and then choose an illustration you like. Add your photos, write a birthday card text, personalize your stamp and sign with your fingertip. Select one or more recipients, validate your card and you're done. It's shipped within 24 working hours worldwide at no extra charge.
When should I send a personalised card?
A card for every occasion! Your holidays with friends or family, the birthdays of your loved ones or yours, the end of the year celebrations or the great milestones of your life such as a wedding or a birth, know that a card will always please. So, which birthday card text will you choose?