No more holidays without inspiration!
Heading for the holidays, matey!
Now it's time for you to get your toes fanned out. Whether on your deckchair in Brighton, by the fire in the Alps or on top of a volcano in Indonesia, your loved ones are patiently waiting to read your story. Running to the post office? No, it's not for you. Want some good advice? Personalise your postcards online with your own photos and send them directly from your smartphone. Originality guaranteed! Now that you've taken this step, you're missing the inspiration to write your content. What are you going to tell Grandma? Weather, activities, food... Find the perfect text for your postcard here.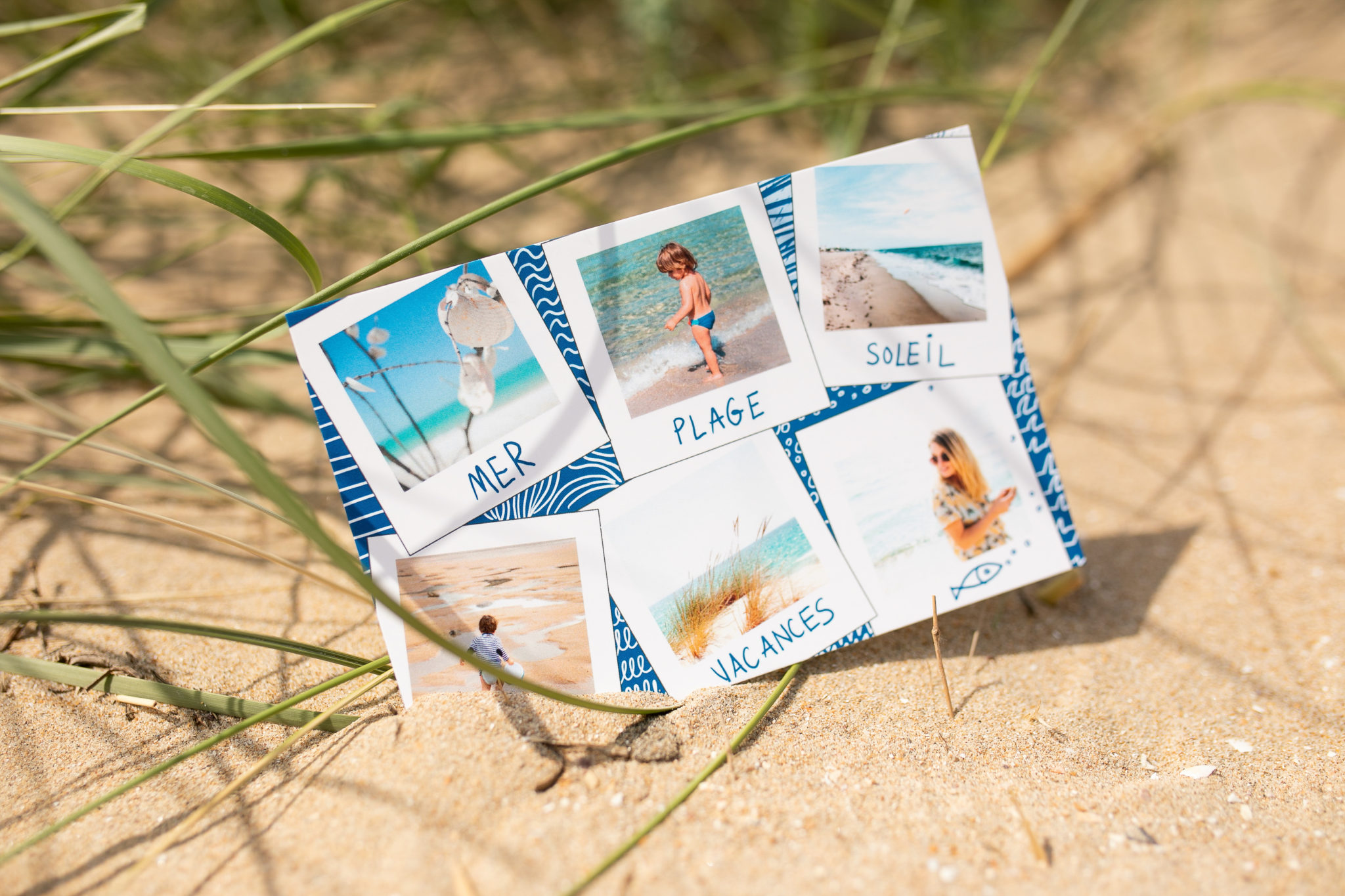 Getting ready to leave your street shoes for flip-flops? You're right! Holidays at the seaside, the sun, we're all asking for it. Why don't you share a piece of this paradise with your loved ones? Go ahead and write your card. Fizzer has found THE text for your postcard, writing with your feet in the sand.
"Sorry about the sunscreen stains on the postcard! »
Hello parents! How are you doing? This is your son/daughter [first name], who is currently being gilded on the beach in Bandol. Our Airbnb is great, we even have a big terrace and a barbecue. Our schedule varies between lazing around, eating together, visiting the villages of the French Riviera and going out. I'll see you in a month and in the meantime I'll give you a big hug. P.S. Sorry for the sun cream spots on the postcard! 
"We eat fresh fish and bathe every day."
Hi, Daddy! How are you doing? [First name] and I made it safely to Crete. It's absolutely beautiful! The water is turquoise blue, we eat fresh fish and swim every day. To top it all off, the people are absolutely charming. In short, happiness. I hope you like it just as much in Portugal. See you soon!
"The children have discovered the kite and they can't live without it. »
Dear Mamie, greetings from the whole little family, live from Les Sables-d'Olonne. What's the weather like at your place? It's mixed here, but you never lose an opportunity to swim. The children have discovered the kite, and they can't do without it. As for us, we've signed up for a surfing course, and we love it. We send you lots of kisses, and see you soon! 
Ready to post your very first postcard?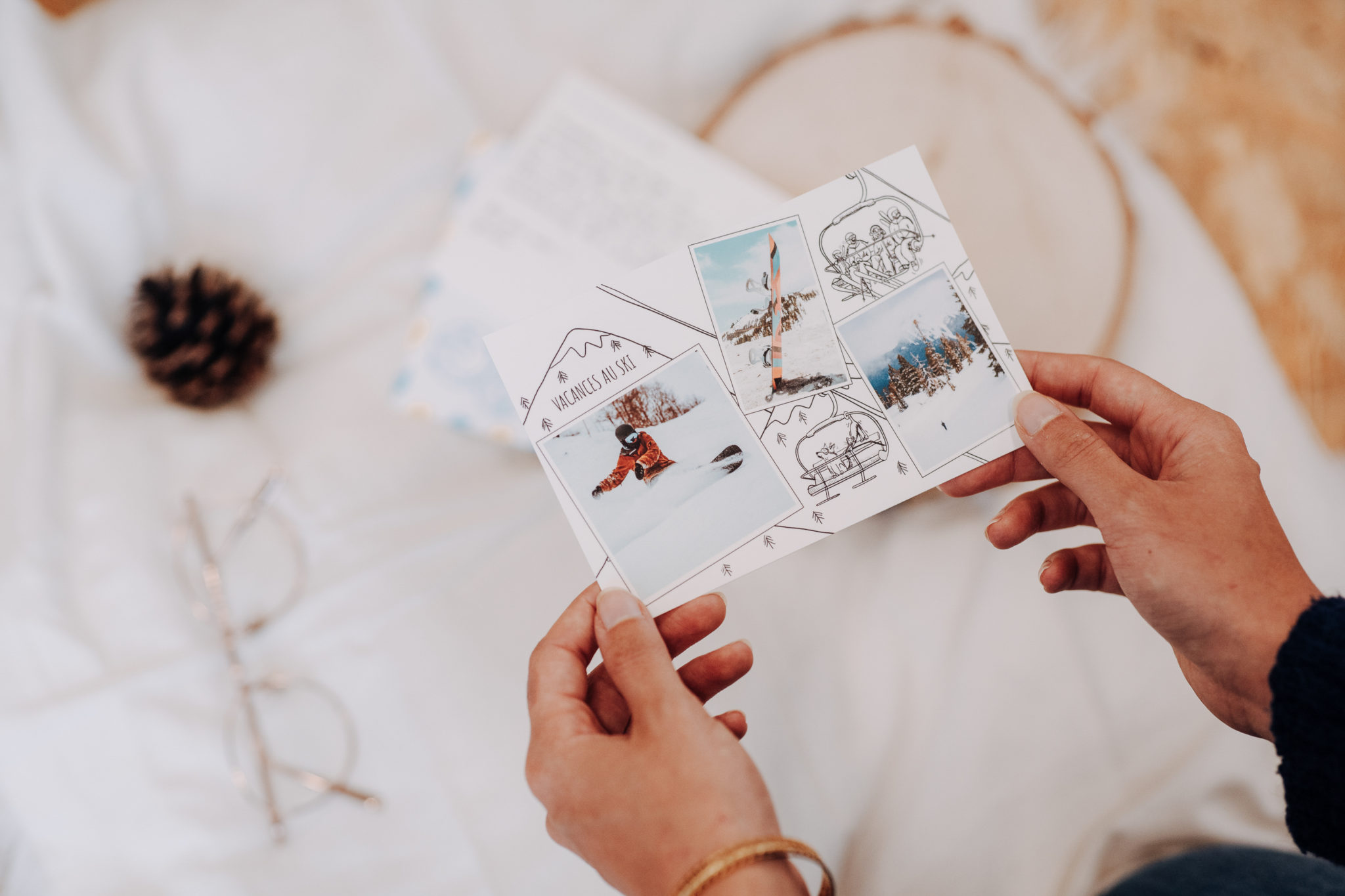 All schuss about the holidays! Is the car ready to climb the snowy peaks? So is the Fizzer app. Create your postcard from the top of the slopes and write a postcard text that will perfectly illustrate your holidays in the mountains: local meals, snowshoe excursions, downhill skiing... Here, you have all you need to feed your story.
"Tomorrow, it's a trip to the Aiguille du Midi! »
Hi, GrandPa! How are you? Here is my traditional postcard of the mountain This year, I went to Chamonix with my friends. It's a really nice city, with a nice story and the ski area is great. Tomorrow, it's a trip to the Aiguille du Midi. Since you've been telling me about it, I can't wait to see it! See you soon!
"On the program: raclette overdose, torchlight procession, snowshoe hiking..."
Dear [first name], I hope you're okay. We're in the family chalet in Les Menuires like every year. On the program: raclette overdose, torchlight descent, snowshoe hiking and always lots of board games by the fire. We'll also try to pass our arrow; keep your fingers crossed for us! We look forward to seeing you soon, and we give you big snowy kisses in the meantime. 
"We took the kids skiing for the first time."
Hi Grandma and Grandpa! How are your winter holidays going? We took the children skiing for the first time, they are absolutely delighted. [first name] even got his Piou Piou! The resort is great and our apartment is very cosy. On our side, we're going for a dog-sled ride. Can't wait to tell you about it! Good Val Thorens kisses from everyone. 
Would you like to create your first postcard?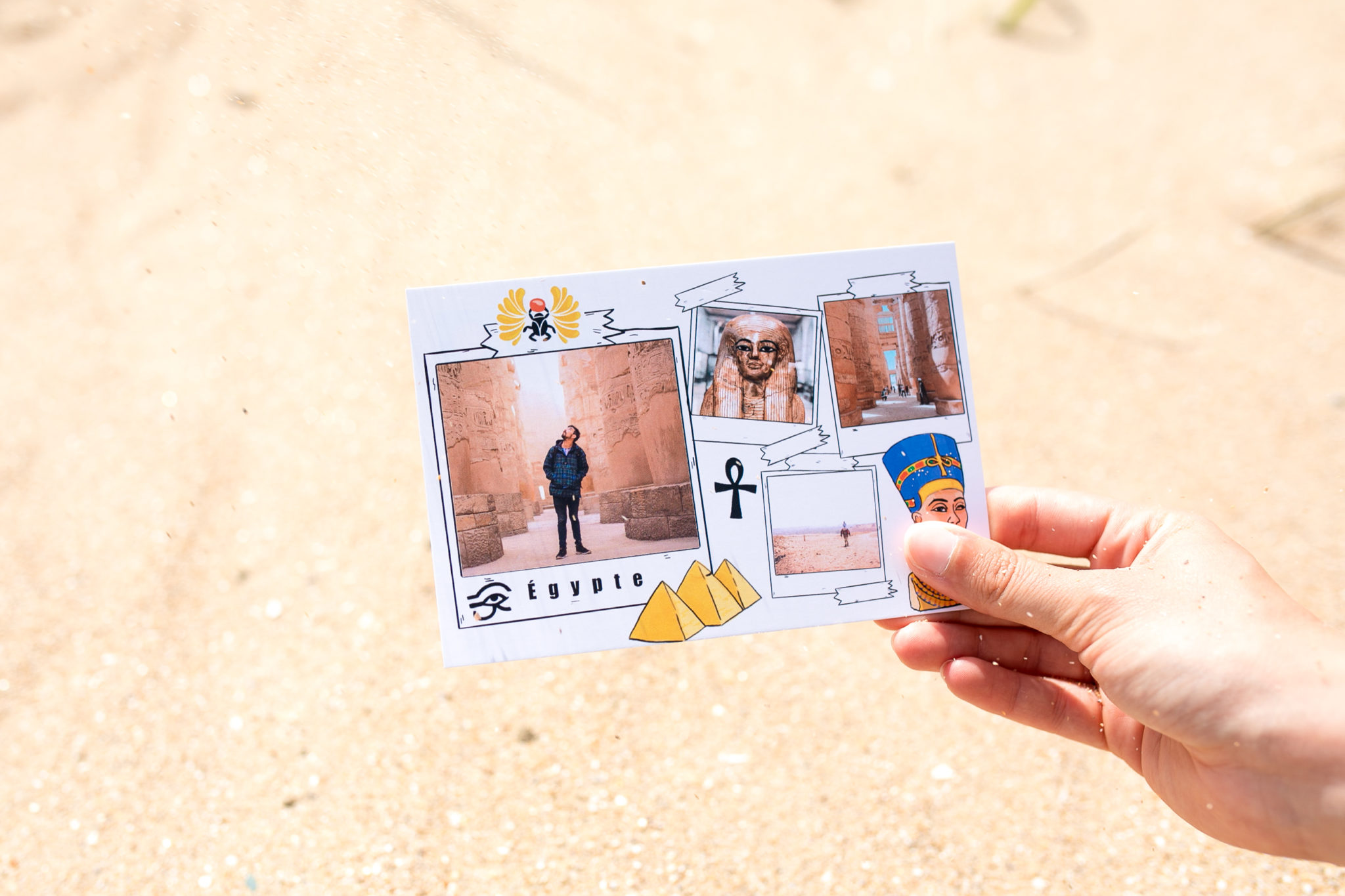 Travel bag on your back, hiking boots on your feet, you are ready for your next expedition. Wherever you are, know that you can send postcards of your trip from anywhere in the world. Your card is printed in France and arrives in a few working days. So it will be delivered before your return! Convenient, isn't it? If you like the idea, you will find below a text for your postcard.
"After an interminable epic, here I am at last."
¡Hola [first name]! ¿ Qué tal? After an interminable epic, here I am finally in Cuzco ! Peru is really sublime. You'd love the atmosphere and especially the cute llamas on every street corner. Tomorrow, I start the road to Machu Picchu; a dream come true. I will rewrite you as soon as possible.
"We swam with the turtles in the Gili Islands."
Hi, guys! We hope you're doing all right. On our side, we arrived in Bali. It's a true paradise on earth. We visited the Monkey Forest in Ubud, it was great. [first name] even got his cap bitten off by a monkey! We also swam with the turtles in the Gili Islands, an unforgettable experience that we highly recommend. Even though we're having a great time here, we can't wait to see you in Paris! Love.
"We managed to see all the Big Five, imagine the children's happiness! »
Hello from South Africa! How are you, Mum? We're really excited about our trip. The country's beautiful! At this time of year, the Pretoria jacarandas are covered with purple flowers. The safari was incredible, we managed to see all the Big Five; imagine the happiness of the children! Tonight we're off to Cape Town. Can't wait to show you all the pictures on the way back. Love, from the whole family thinking of you. 
Need help? Any questions? Our team answers you within 24 hours, 7 days a week
The Fizzer application, created in 2014, allows you to transform your own photos into personalized souvenirs: postcards and invitations. No need to go to the post office anymore, we do everything for you! Printing, enveloping and franking. 
How does it work?
It's very simple! Connect to Fizzer on the web, Android or iOS. Get credits, select the card format you like and then select your favourite artwork. Add your best photos, write a text on the back of your postcard, personalize your stamp and add your handwritten signature. Like the card? Select one or more recipients, validate and it's done! Your card will be sent within 24 working hours anywhere in the world. 
When should I send a personalised card?
All occasions are present on the application, all you have to do is choose the right moments to delight your loved ones: your holidays with friends or family, birthdays, anniversaries, Christmas and New Year's eve, or major milestones in your life such as a wedding or a birth. In any case, whatever the moment, a little attention always makes you happy. So, which postcard text will you choose for your next holiday?