No more lack of inspiration!
It's summer already! The cicadas are singing, the terraces are filling up, and a sweetness of life is felt in the streets of your city. Are you about to take a romantic getaway, go to the mountains with your family or go see the sea alone? Whatever your situation, Fizzer helps you fight against the white page syndrome, and offers you a selection of text summer postcard to copy/paste directly on your postcard and adapt according to your destination! Because we don't command inspiration, we might as well be foresighted. 
Your holidays by the sea or in the mountains
"The coastline is simply sumptuous" 
Ola (first name), como vai voce? For our part, we are having a wonderful stay in Portugal! After a few days spent in Lisbon, we have just arrived in Carvoeiro, in the Algarve region. The coastline is simply sumptuous and the beaches are uncrowded at the moment: a real little paradise just for the two of us! Everything going well for you in Nice? We send you big kisses, see you soon!
"Tomorrow I get up early to visit the Colosseum"
Hello Bella! Come sta? As you can see I arrived safely in Rome! I haven't finished marveling at the beauty of this city, where time seems to stand still. Tomorrow I get up early to visit the Colosseum early - it's the only way to avoid the hordes of tourists! Last night I took your advice and waited until midnight to admire the Trevi Fountain. With the lights, the fountain was even more beautiful! I'm still waiting to meet a handsome Italian at the bend of a small alley nevertheless... I kiss you
"The weather in New York is glorious"
Hello guys, how are you doing? Isn't it too hot in Paris with the heat wave? In New York the weather is radiant, we walk a lot (even a little too much for the children's taste!). The Big Apple is very photogenic, I hope our photos pay tribute to it. On the program for us this afternoon: picnic in Central Park then visit the Empire State Building. The view from this iconic skyscraper is said to be breathtaking. Tonight we'll go to Broadway if the kids aren't too tired! lots of love
"A hello from Biarritz!"
A hello from Biarritz! I hope the weather is nice in Toulon anyway? For my part, I really like it here. The landscapes are absolutely stunning. You can even see the Spanish coast from the beach. To top it all off, there's no lack of sporting activities: tennis, surfing... There's plenty to do! I can't wait to tell you all about it
"Tomorrow evening we will eat fish on La Croisette"
Hello cuties! How are things in Lille? We have just arrived in Cannes to visit (first name). As usual, the sweetness of life in the city still charms us. We will go for a dip in the sea if the weather allows us - for the moment the sky is rather cloudy. Tomorrow evening we will eat fish on La Croisette. Yum ! Grandpa and Grandma thinking about you
Ready to mail your first postcard?
Your holidays in the mountains or in the countryside
"The view of Mont-Blanc is still impressive"
Big kisses from Megève! How are you daddy? We spend a few days in this pretty village to breathe the pure mountain air. The view of Mont-Blanc is still just as impressive. We are thinking of you very much and look forward to seeing you again.
"We will go for a walk near Les Mottets"
Hello mom and dad, I arrived safely in Chamonix, what a change of scenery from Paris! The sun is shining there, Grandma (first name) enjoys the garden and tans wonderfully. Grandpa (first name) is, as usual, immersed in his books. Tonton (first name) arrives next Monday. If he's still up for it, we'll go for a walk on the Mottets side, to enjoy the splendid view of the Aiguilles des Drus. Everything okay at home? lots of love
"I needed fresh air and nature"
Hello my dear (first name), how are you? For my part, I needed fresh air and nature, so I took the children to our family home in Anjou. This is their first stay in Pays de la Loire, (first name) loves bucolic walks and games of hide-and-seek in the parks. If the weather is good tomorrow, we will go to the Mediterranean Garden Les Clos des Vignes. What's the weather like in Bordeaux? I can not wait to see you again ! Take care of yourself
"Lake Annecy is so beautiful"
Hello grandma, is everything going well in Marseille? I have just arrived in the charming city of Annecy with my darling. The setting is so romantic and Lake Annecy so beautiful and clear… I understand better why the city is nicknamed "The Venice of the Alps". Here the weather is nice and warm and there is no shortage of activities on Lake Annecy! This morning we started our day with a small pedalo ride on the lake. The life, the real one ! We kiss you both very much and we hope to see you very soon
"A fragrant cuckoo clock from the Luberon"
How are you my dear (first name)? I send you a perfumed hello from the Luberon. I am with (first name) at my in-laws, always so welcoming and cheerful! Tomorrow we will go to the famous Regional Natural Park of Luberon for a bit of hiking, and why not a bit of climbing. Here they are all very adventurous… Have you ever heard of the Provençal Colorado of Rustrel? I didn't know at all but it has nothing to envy to the fabulous landscapes found in the American UTAH… We go beyond the European borders as best we can! I kiss you hard and say see you soon
Ready to write your summer postcard text?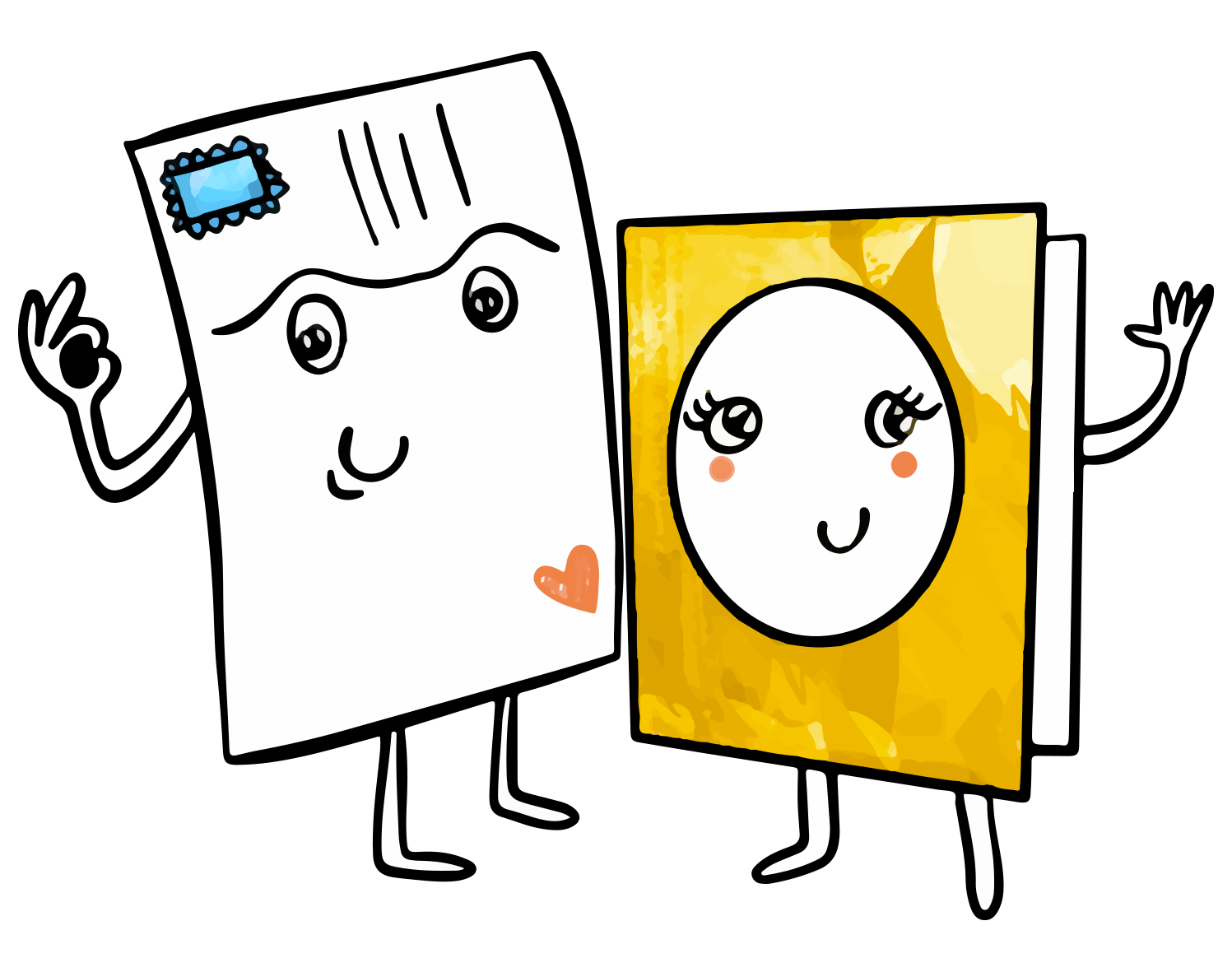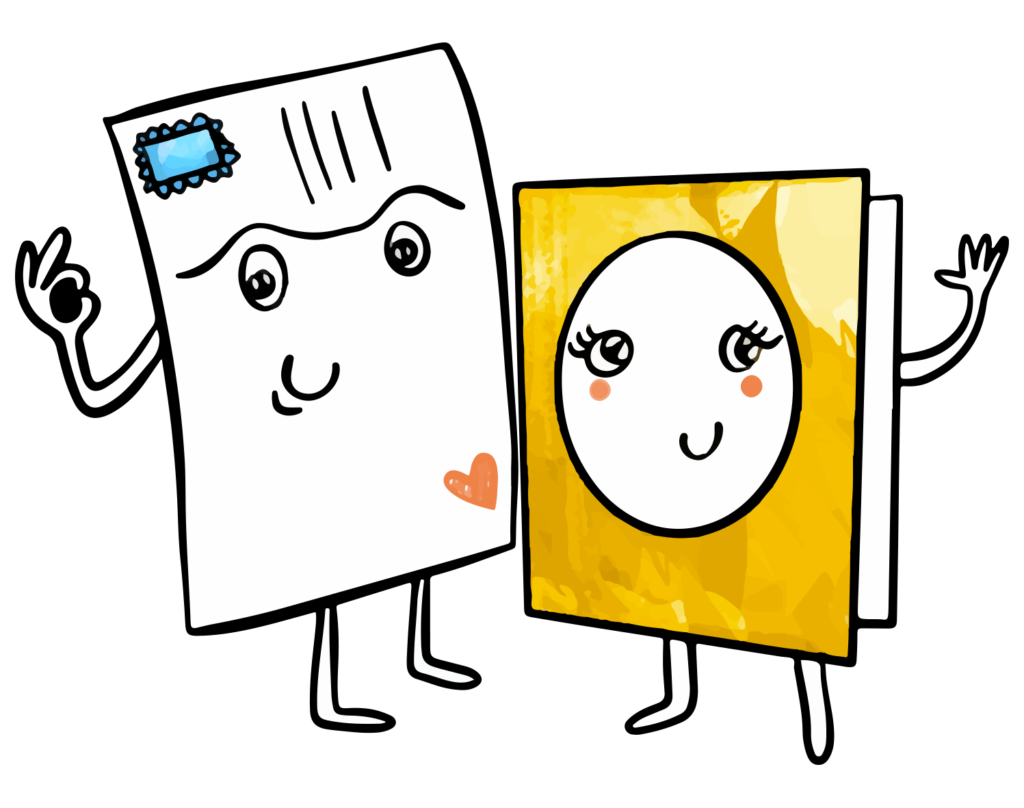 Need help ? A question ? The Fizzer team responds to you within 24 hours, even on Sundays!
For this summer, you may be preparing to coo in love facing the sea, to multiply the hikes with your family or to empty yourself far from everything in the countryside. Either way, one thing is certain: your 2020 vacation will be great. Remember to make them memorable, with beautiful photos and personalized postcards!
How to create a unique postcard with Fizzer?
Fizzer has only one promise: to transform your most beautiful holiday photos into postcards, almost instantly! To do this, no secret: just a Fizzer application and a smartphone or tablet. In a few simple steps, you can surprise your family or friends with postcards that are unique in the world. 
First, start by browsing the Fizzer catalog by browsing through our postcard models, designed by our illustrators. Whether you are on vacation in Paris, Brussels or Greece, you will find the right postcard, which will highlight the region where you are! Yes: for maximum personalization, we take great care to create postcards specific to each potential summer destination. Once you have chosen your model, all you have to do is slip in your most beautiful photos in the sun! 
It's done ? We then let you add a few sweet words to your loved ones (if you lack inspiration, don't forget to help yourself with our selection of summer postcard text!). Sign, create your stamp, and finally add the list of recipients. 
From there, Fizzer takes over, and takes care of printing, putting in an envelope and sending your pretty cards. Easy as Fizzer!